At Amazonas Explorer, our guides are the life and soul of any trip to Peru and right now they are struggling to make ends meet. With the international borders being closed, the 2020 guiding season has been decimated and nobody knows when tourism will start up again in 2021. Most leaders in the market are predicting that it will take years for the tourism industry to fully recover in Peru.
To help the guides until they can start working again, we've created 11 GoFundMe pages to help some of our guides reinvent themselves and diversify into new trades. If you've ever done one of our trips or even been wowed by an amazing, friendly knowledgeable guide in the World, please donate whatever you can. In each link you will find the businesses each guide is trying to start, to support their families during these difficult times. Each guide has included a breakdown of the finances needed for their startup.
---
Check out: Our Treks into Machu Picchu! The best way to avoid the crowds, with fixed departure reduced price available!
---
Help Jaime Infante Give Legal Counsel to Under-Represented Communities
Inca Trail Guide, Folk Singer, Painter, Lawyer, is there anything this guy can't do? Jaime Infante has been working with Amazonas Explorer for 13 years now and he brings fun and color wherever he goes. Jaime used his earnings as an Inca Trail guide to complete law school so he could represent underserved communities in the Sacred Valley free of charge. With no tourists, his savings are running low. Currently, he has been selling paintings to help fund bus rides to the remote communities in the valley to give free legal counsel. Now that he's better versed in labor law, his plan is to open an office in the town of Urubamba to better help low-income families with their legal problems, Click Here to help Jaime Infante pursue his dream of having a legal office.
Help Jose Enrique Finish his Rental
This is our trekking guide, Jose Enrique.
Jose Enrique is trying to finish a flat so he can rent it out and provide for his family until he can guide again. Jose Enrique has worked for Amazonas Explorer since 2015 and is responsible for providing care and support for his elderly parents. In Peru, most families take on the care of their elderly parents as opposed to putting them in care facilities. Click here to help Jose Enrique provide support to his elderly parents during The Pandemic by finishing his rental.
Help Jose Antonio with His Screen Printing Shop
Our trekking and biking guide, Jose Antonio Rivas Silva is a veteran guide of 20 years and has been guiding for Amazonas Explorer for the last 10 years. Jose Antonio is an incredible biking guide and creates life-changing experiences for our guests on our treks and Machu Picchu tours. Help Jose Antonio & his family start a fabric printing company off the ground. There are only 3 other competitors in all of Cusco and Jose Antonio believes they can have a competitive edge with a quality product. His two children are leading the graphic design and Jose Antonio is on the business side of things. Click Here to see his business plan and help him reinvent himself in the local t-shirt business.
---
Check out: Our Treks into Machu Picchu! The best way to avoid the crowds, with fixed departure reduced price available!
---
Help JC Grow His Food Business
Juan Carlos Salazar, also known as "JC", "El Chato", or just "Juanca" started as a bike mechanic and then went to university to become a guide. JC has worked with Amazonas Explorer for almost 20 years now, it's what he does best. Now with tourism shut down for the rest of the year due to Covid-19, JC has had to rethink his work to support his wife and 2 children. As a hobby, his family has always raised guinea pigs, chickens for eggs, and fresh meat to improve the diet of his children. To grow his new business, he is trying to raise $2000 (£1600)  to help increase his farm capacity, source food for his animals, and also expand his offerings by bringing delicious cheese from Anta and avocados from Limatambo to sell in Cusco city. JC has also been loaned a piece of land from Amazonas Explorer owner, Paul Cripps, up above Lake Huaypo where he plans on planting Tarwi, a type of lupin grown in the Andes, mainly for its edible and highly nutritious beans. With the funds, he would like to buy a plow, a bull, seeds, and organic fertilizer to help it grow.  Click Here to help JC.
Help Cristobal become a Farmer
Cristobal Cuba, is a veteran guide, he started in 2000 and has worked with Amazonas Explorer since 2012. Cristobal is one of our top "Magic Maker's" facilitating life-changing experiences on and off the trail. His expertise and professionalism has helped us grow and he is one of the cogs in the machine that are essential to the success of each tour we give. Help Cristobal reinvent himself as a farmer until he can start guiding again,  Click Here.
---
Check out: Our Treks into Machu Picchu! The best way to avoid the crowds, with fixed departure reduced price available!
---
Help Edwar Update his Equipment for his Mobile Market
Edwar Efrain Zuniga Pumacayo, is a veteran guide with over 20 years of experience under his belt and we are lucky to have worked with him the past 7 years. Edwar lives in Cusco with his two sons and he has been working as a food distributor during the pandemic, as there has been no guide work for almost the entire year due to Covid-19. Edwar already has the basics set-up but he needs a few improvements and tools to step up his business and make it truly productive to support his family. Click here to support Edwar with the purchase of new equipment, and improvements to the old truck he is currently using.
Help Santiago Buy More Equipment for His Gas Delivery & Store
In Peru, there are no main gas lines for houses and each home has tanks of gas delivered, as needed, typically by motorcycle. Our Head River Guide and Chief Instructor at Amazonas Explorer,
Santiago Carlin
  Is trying to reinvent himself with a gas delivery service, that also supplies spare parts to help feed his family of four.
He has already started to work with one of my brothers selling propane gas and now wants to build his own small shop to sell and deliver gas bottles as well as spare parts for kitchen accessories. In order to start his business, he is trying to raise $2500 (£1923) for the direct from the factory down payment on 50 gas bottles and additional equipment needed to make the deliveries.
Click Here
to help Santiago start his gas delivery service and store.
Help Xavier become a Farmer
Our mountain bike and trekking guide Xavier Ccoa Triveño is hard not to love. One of our favorite guides, Xavier has been working with us for 10 years now. Since Covid-19 stopped the tourist season in Peru, Xavier has been working on his father-in-law's farmland and he's enjoying it and learning a lot. Xavier, his wife, and daughter are trying to reinvent themselves as farmers.  Currently, they have 3000m2 of land where they would like to plant avocados, custard apple (chirimoya) trees, potatoes, and corn to be sold in the local markets. Click Here to support Xavier becoming a farmer.
Help Natalia Farm Organic Vegetables
Natalia (Naty) Amao, has been a Peruvian adventure guide for the past 11 years and has been working with Amazonas Explorer for over 5 years now. Naty is a true renaissance woman, stepping out of the typical Peruvian female role first by getting a university education, then becoming a guide, and then becoming the sole bread-winner for her family. Since Covid-19 she no longer has any work and she needs some supplemental income to get her "side-hustle" going of growing organic vegetables, to feed her family, and to sell them at the local market. While she already has most of what she needs, she needs some additional help, Click Here, to support Naty and find out what she needs to grow her vegetables.
Help Elias Expand his Store
Elías Lazo is an official tour guide in Perú and has been working his "magic" at Amazonas Explorer for 3 years. Elias has a son Diego who is 11 years old and with the stop of tourism, Elias has had to get creative to support his family. Elias has started working with another friend selling eggs, cheese, olives, etc, and now he wants to improve his small shop by selling dried fruits, fresh fruits, different types of flours, stews, spices, and local honey. With the additional support, Elias wants to purchase raw products direct from the producers and stock up my shop so he can fully support his family until tourism starts again. Click Here to support Elias with his store.
---
Check out: Our Treks into Machu Picchu! The best way to avoid the crowds, with fixed departure reduced price available!
---
Help Jimmy Plant his Eco Farm & Employ Inca Trail Porters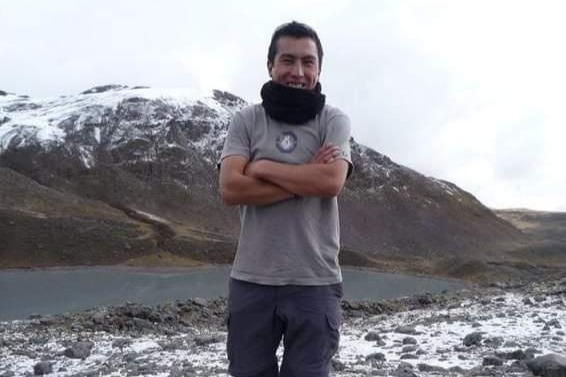 Jimmy Barrientos has been working with Amazonas Explorer since 2012 providing that intangible magic that turns travel into a life-changing experience.  Using some of his family's land near Ollantaytambo, Jimmy is trying to reinvent himself as an organic farmer. During the last month, Jimmy has been spending all of his time working the land to get it ready for planting. With the money he raises he wants to buy seeds, organic fertilizers and hire members of our Inca Trail Porter community to help him plant and work the fields. If Jimmy's goals are met he can help support 5-7 porter's families.  Click here to support Jimmy to provide employment for Inca Trail porters and start his farm.
–Check out how our guides are doing here–
If you are ready to start planning your trip to Peru, contact us or check out our recommended adventures for ideas, adventures, and updates.
2