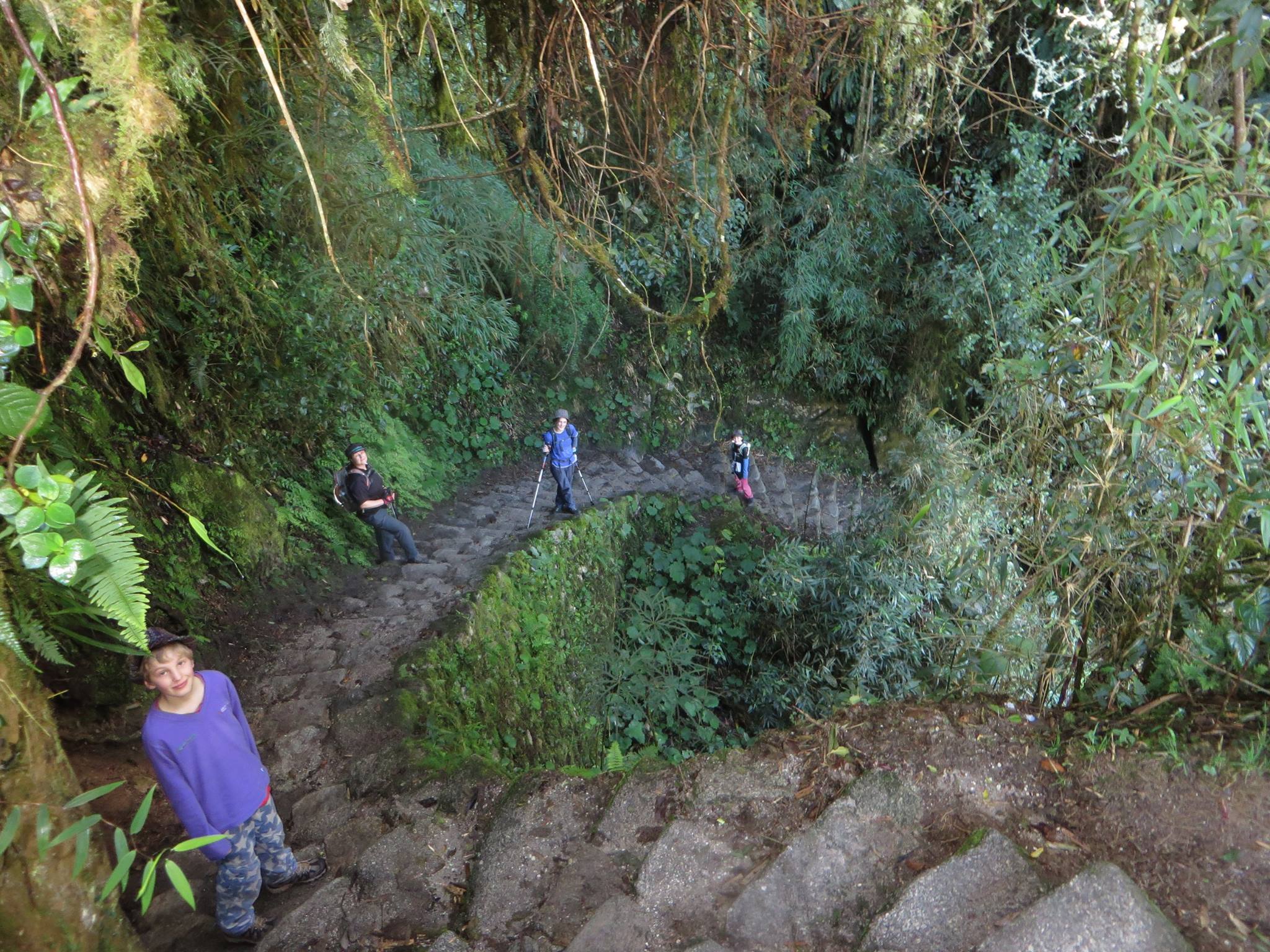 Travelers from all over the globe have their sights set on the magical Inca Trail. But how much do you really know about it? Indulge yourself in our complete guide to the Inca Trail and discover all the information that you could possibly need about this iconic trek.
Contents
What is the Inca Trail?
The Inca Trail is the most famous multi-day trek in South America, and perhaps among the most well-known across the world. It is found in Southern Peru, in the Cusco region. Cusco was the capital city of the Incas. The Inca Trail is an authentic Incan path that passes through multiple Inca ruins before reaching Machu Picchu through the iconic sun gate.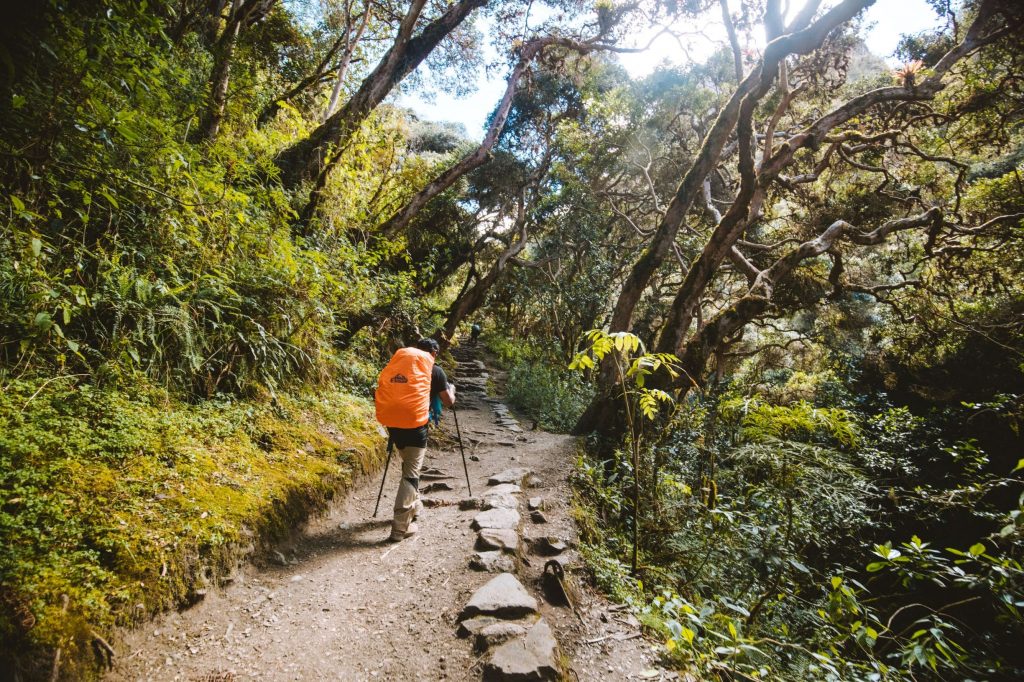 The History of the Inca Trail
The Incan people traveled around using a huge and extensive collection of pathways and roads, typically traveled by humans and, slightly less frequently, llamas to carry equipment. Incas would construct buildings along the route as places for them to rest, worship, and restock supplies. 
There are Inca trails and roads across all of Peru and Ecuador, with sections branching out to Bolivia, Argentina, Chile, and Colombia. The Atacama desert stopped them from expanding too far into what is modern-day Chile, but there are still some to be found in the far north.
What is modernly referred to as 'The Inca Trail' was a path that took Incan nobility and royalty to the citadel of Machu Picchu from the capital, Cusco (although the modern route does not begin in Cusco). 
In its prime, Machu Picchu (it is thought) was a retreat for royalty and high-level nobles. It was essentially an upper-class holiday home (city), with plenty of priests and worshipping spots there to ensure that the area remained holy. 
One of the reasons why Machu Picchu is so famous is because of the level of engineering required for it to function as a citadel with its rather precarious placement high on the mountainside. 
Again and again, archaeologists have theorized: how did they get the rocks to build it? How did they have a constant supply of water? Machu Picchu is bordering on perfect as an example of the superiority of Incan design and engineering.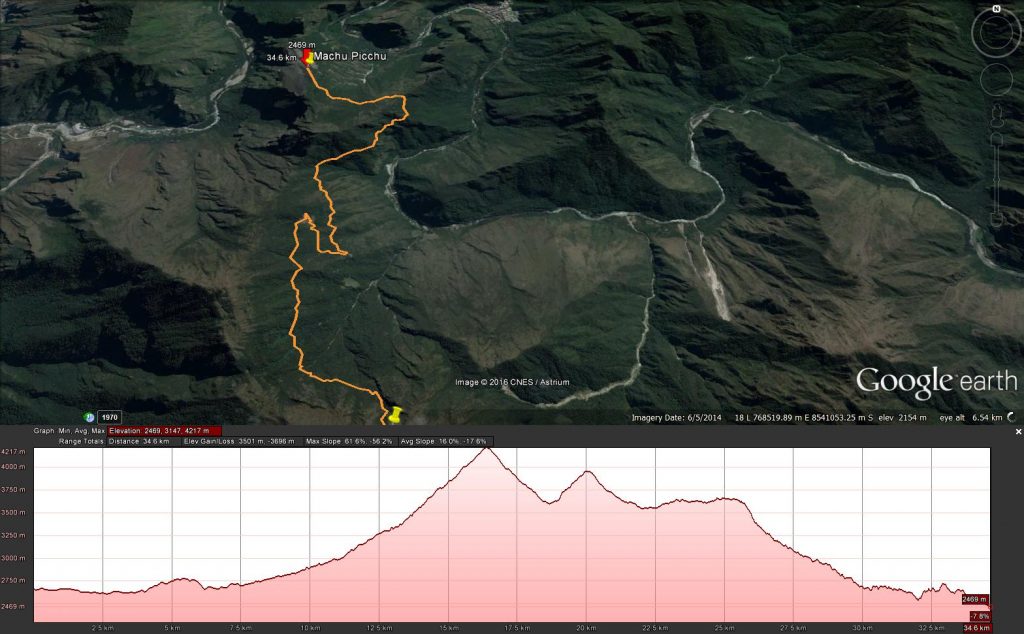 Should I do the Traditional 4 day Inca Trail, or try the 5-day trek?
Hiking in Peru is the perfect way to get up close and personal with some truly incredible nature and experience the Andes Mountain range in an unbeatable way. Hiking the Inca Trail while in Peru is on many travelers' bucket lists, and truly, it should be on many more. 
There are broadly two choices for taking on the Inca Trail. The classic 4-day route, or the 5-day route. Both options follow the same trails, but the 5-day Inca Trail allows more time in the ruins, more leisurely meals, and the opportunity to stop, take a beat and appreciate the world as it passes by around you. 
Because so many people choose the regular 4-day route, it also means that the 5-day route offers an almost empty path- instead of being surrounded by the other trekkers who are all trying to experience as much as possible, as quickly as possible.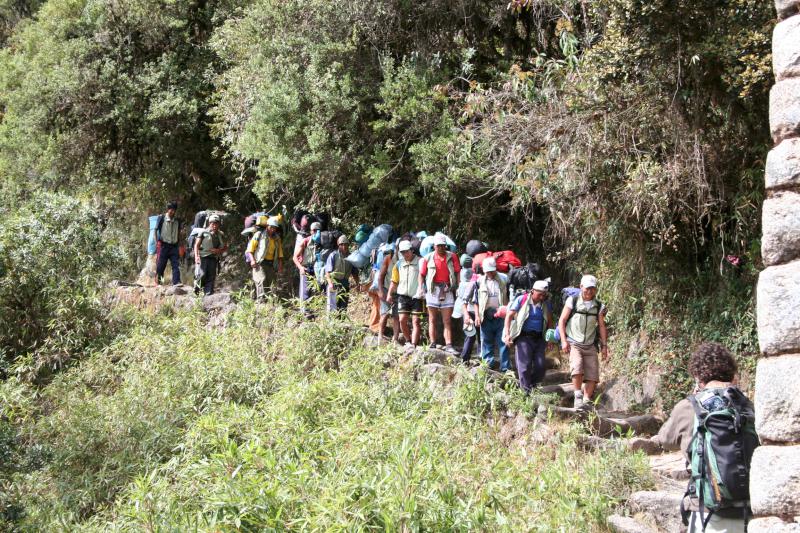 You can read a little more about the differences using our guide to the 4 days vs the 5 day Inca Trail, or you can compare the daily stats below: 
Daily stats 
Inca Trail 4 Day Stats
Day One: 
Distance- 13km
Elevation Change- 200m descent, 700m ascent
Starting Point- Piscacucho, KM82 (Ollantaytambo) 
Finishing Point- Huayllabamba
Sites Visited- Llactapata 
Day Two: 
Distance- 11km
Elevation Change- 1150m ascent, 850m descent 
Starting Point- Huayllabamba
Finishing Point- Pacaymayo 
Sites Visited- Warmiwañuska 
Day Three: 
Distance- 16km
Elevation Change- 675m ascent, 1475m descent 
Starting Point- Pacaymayo 
Finishing Point- Wiñaywayna
Sites Visited- Sayaqmarca 
Day Four: 
Distance- 3km
Elevation Change- 150m ascent, 300m descent
Starting Point- Wiñaywayna
Finishing Point- Machu Picchu
Sites Visited- Phuyupatamarka, Wiñaywayna Intipunku (Sungate), Machu Picchu 
Inca Trail 5 Day Stats
Day One: 
Distance- 6km
Elevation Change- 500m descent 
Starting Point- Piscacucho, KM82 (Ollantaytambo) 
Finishing Point- Llactapata
Sites Visited- Llactapata
Day Two: 
Distance- 9km
Elevation Change- 1590m ascent 
Starting Point- Llactapata
Finishing Point- Llulluchapampa 
Sites Visited- n/a
Day Three: 
Distance- 15km
Elevation Change- 1035m ascent, 1225m descent 
Starting Point- Llulluchapampa 
Finishing Point- Phuyupatamarca
Sites Visited- Warmiwañuska (dead woman's passage), Sayacmarca
Day Four: 
Distance- 12km
Elevation Change- 1250m descent, 150m ascent
Starting Point- Phuyupatamarca
Finishing Point- Aguas Calientes (Machu Picchu Pueblo)  
Sites Visited- Phuyupatamarka, Wiñaywayna, Intipunku (Sungate)
Day Five: 
Distance- n/a
Elevation Change- n/a
Starting Point- Aguas Calientes (Machu Picchu Pueblo)  
Finishing Point-

Machu Picchu (and return to Cusco) 

Sites Visited- Machu Picchu
Archeological Sites Visited On the Inca Trail
Llactapata
An important Inca ruin that was used for multiple purposes, with a ceremonial center, an urban center, and a cemetery, among other things. These ruins were discovered by Hiram Bingham, much like Machu Picchu was, but it took much longer for them to be properly excavated. 
Warmiwañuska (dead woman's passage)
Not technically a ruin, just the highest point on the trail, and a truly incredible sight to behold for everyone. 
Sayaqmarca
Believed to be both a village and a sacred area, the direct translation of Sayaqmarca is inaccessible (or a place that you cannot enter). Despite the name, visitors can explore the ruins while accompanied by a guide. 
Phuyupatamarka
Also known as the town in the clouds, Phuyupatamarka sits, somewhat unsurprisingly, above where clouds gather. It's a magical place to stay the night as the morning will greet you with an incredible view, either of the surrounding valley and the ruins you have yet to visit, or of a blanket of clouds covering the landscape. 
Intipata
Previously shrouded in overgrown vegetation, Intipata is the place where the sun hits just right, (implied by the name, which directly translates to 'Sun Place') and is found at the top of the descent to Wiñaywayna. 
Wiñaywayna
Directly translated to 'Forever Young', the purpose of Wiñaywayna is often debated. Regardless of whether it was used as a rest point for visitors to Machu Picchu, or a religious ceremonial center, these ruins are spectacular, and even more so up close. Just over 3km from Machu Picchu, they're also the welcome signal of a trek almost finished. 
Intipunku (Sungate)
The gateway to Machu Picchu. The Sun Gate is widely considered to be one of the most important sections of Machu Picchu as it was a checkpoint for those entering and leaving, as well as being a crucial offering to Inti, the Incan sun god. 
What to Pack for the Inca Trail 
Because the route varies so extensively in terms of altitude, elevation, and climate, the recommended packing list is an important thing to consider. Below is a list of suggested items that will help to make your Inca Trail trek that much more enjoyable. 
Comfortable clothes for travel
Zip-off Shorts
Long-sleeved T-shirts
A warm fleece or down jacket
Thermal underwear
Day-sack and rain-cover
Warm hat, gloves, scarf
Sweater (available in Cusco)
Waterproof coat and trousers (poncho)
Socks / underwear
Trekking trousers
After trekking trousers and t-shirt
Good, well worn-in walking boots
After trek shoes (sandals)
Sleeping bag (-5°C)
Small Towel
Water bottle
Sunglasses 
Head torch and spare batteries
Book, notepaper and pen (optional)
Sunscreen factor 40+ / Lip balm
Sun-hat 
Insect Repellent 
Camera and spare memory
rubber tips
Personal toilet kit
Money belt
Personal first aid kit to include: painkillers, plasters (band-aids), moleskin, antiseptic cream, after-bite, anti-diarrhea tablets, throat lozenges, re-hydration salts & personal medication. (Your trek provider SHOULD carry an extensive first aid kit and Oxygen on the Inca Trail, but these are generally for emergencies only)
What are the porters for? 
The porters are there to carry your equipment while on the trail. There are strict guidelines about how much weight they can carry, and there are regular checkpoints along the way to ensure that they are not being overworked. Much of the Inca Trail fees and prices will go towards paying for the porters. 
It is necessary to use porters as the trail is unsuitable for mules and other traditional methods of equipment carrying. The terrain is unsafe for mules, and the path is too delicate to support 500 people worth of donkeys every day. 
Naturally, the work and physical exertion of human people costs more than that of a mule. The sleeping standard and food requirements are significantly higher and more expensive than that of a mule, so with the Inca Trail, it's very important to not shop for the cheapest option, as the cheapest option likely invites the exploitation of porters and guides. 
Please be aware that a cheaper Inca trail tour will generally mean that your porters are being underpaid and will not experience good working conditions (think food, sleeping conditions, etc). If you do choose to travel with a cheaper Inca trail tour agency then please consider how much of a tip you will be willing to give your porters. 
(You can check out how we treat our porters and guides here)
What Should I Tip on the Inca Trail?
Tipping can be a problem in many countries, adding a great deal of stress to your holiday. This is a rough guideline to try and help you work out how much you should tip. Remember that tipping is entirely voluntary and how much you give depends on how you feel about the service you have received. (The main exception to this is Inca trail porters where a tip is expected). 
As a background, Peru has a minimum salary of 940 Nuevo Soles (US$250) monthly for a 6 day 48 hour week. However, in many of the lower-paid jobs (eg waiters, porters, etc) this is not always honored (as mentioned in the above section, lower-priced tours are likely to underpay their porters). 
 The Inca trail, where you will be supported by a full crew of cooks, assistants, and a host of porters, etc, is far more complicated to organize in terms of tipping than other treks and activities. We recommend that each traveler contributes 100-300 soles (30-90 US$) into a pot and following the advice of the guide divide it out between the crew of cooks, waiters, and porters. 
The general consensus as a percentage of the pot is approximate:  20% Cook, 17% Head-porter, 15% Waiter, 13% Assistant Cook, 13% Toilet manager, 22% split between the normal porters. You can also tip your guide as you see fit, anywhere between 50 and 200 soles per person depending on 1) the company you travel with and 2) how good the guide is.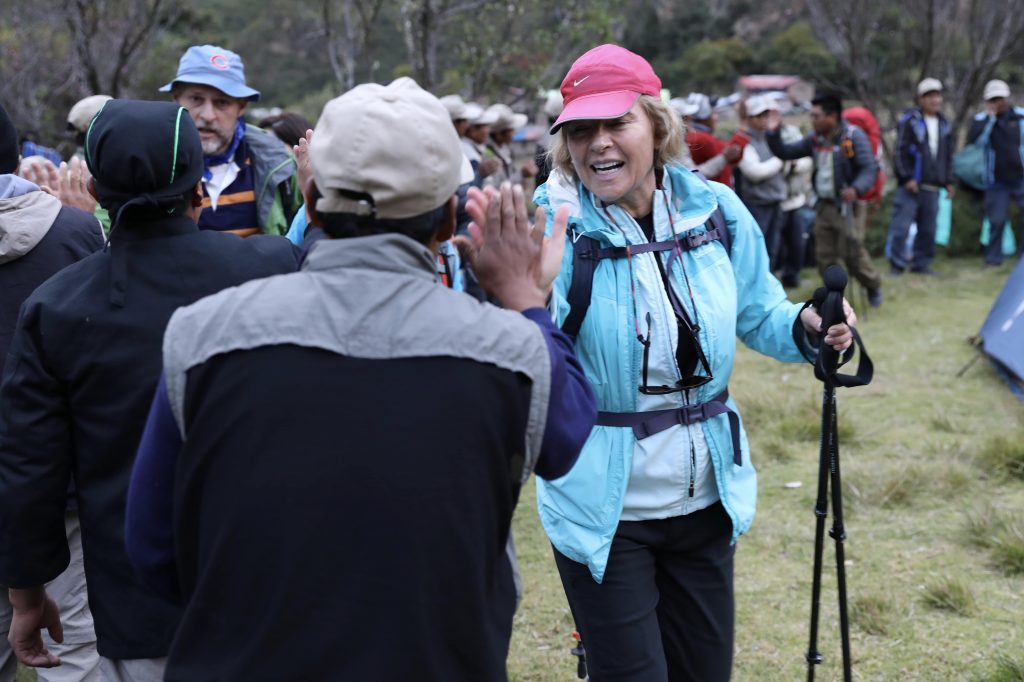 Inca Trail Permits 
Inca Trail permits at times are elusive beasts. There was a time you would need to book 6 months to a year in advance in order to secure your Inca Trail permits, essentially freezing out a large percentage of people who may want to shop around, and potentially invoking panic buying. 
In the post-pandemic world, who knows how long in advance the trail with sell out? (Check out our guide for what to do when the Inca Trail permits sell out). There are 500 permits available per day- but bear in mind that the porters, guides, and cooks all require permits as well as just hikers. 
It is not possible to hike the Inca Trail without a licensed guide, and it is unwise (and perhaps impossible to find a company willing to send you) to hike it without porters. Even if you are used to long-distance treks, the high altitude coupled with the steep uphills are a recipe for disaster for those who are not locals. (Even with time to acclimatize, you may still struggle with just your day pack). 
There are twice as many permits available for the KM104, otherwise known as the final day's walk that passes through the Inca Sungate. That means that if you miss out on your full Inca Trail opportunity, you can still add the KM104 onto an alternative hike.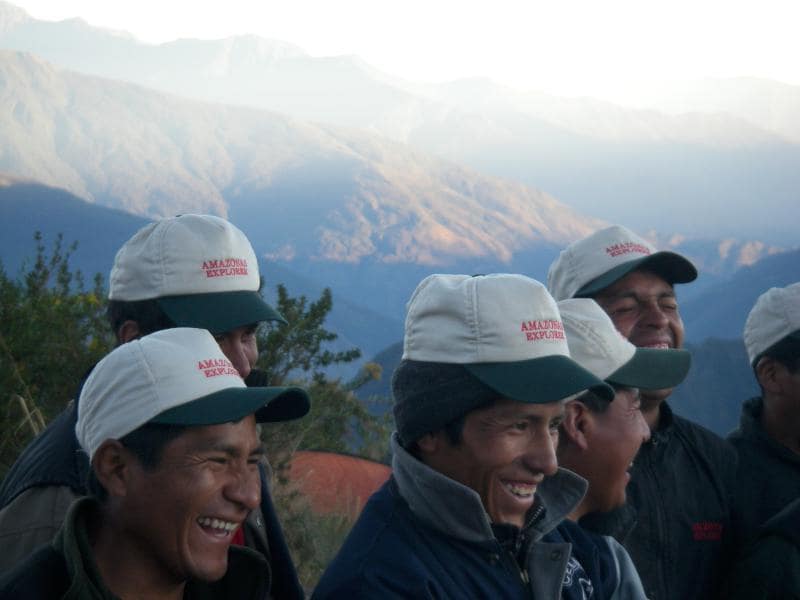 Why are some Inca Trails so much more expensive than others?
Put simply, some Inca Trail tours are more expensive than others because they treat their staff with respect, pay them fairly, offer them better sleeping conditions and better food. The more expensive tours will, equally, offer their hikers a better camping experience, better food, and higher quality equipment. 
In a place like Peru, it can be difficult to find tours that strike the right balance between ethical travel and fair prices (check out our ethics and commitments to sustainability here). However, remember to consider the quality of life of your porters and guides and consider if that's worth a few extra bucks to you.
If you choose an Inca Trail trek that is priced cheaply, the money is made up by cutting the staff wages (it's not uncommon for porters to make their money almost entirely off tips, or for workers to be exploited in Peru- particularly in the post-pandemic world where competition is fierce and work is scarce), slashed equipment costs, and other corners cut. 
Likewise, a cheaper tour may not have the correct first aid kits or oxygen available. In a place like the Inca Trail, where there are no exit routes, a place that is so distinctly remote, do you want to risk paying less and not being able to receive the medical care that you need? 
Camping on the Inca Trail 
There are many campsites across the Inca Trail, and the campsites that you stay in will depend on two things: 
The preference of your tour company and
How many days you will be taking the Inca Trail over 
Those who are doing the 4-day traditional Inca Trail trek will be in busier campsites (regardless of the tour companies preferences), as this is where the majority of travelers will be staying- and as we already discussed, of the 500 daily permits, 490 will be doing the 4 day Inca Trail trek. 
Owing to the weight limitations that the porters face, it's much less easy to facilitate 'glamping' conditions, so if camping is not your preference then it may be a wise idea to consider an alternative to the Inca Trail. 
However, if you're a camping enthusiast then the Inca Trail and you could be a match made in heaven. You can find out everything you need to know about camping, the campsites, and all things to do with a tarp with our guide to camping on the Inca Trail. 
Alternative treks to Machu Picchu 
For those who know in their heart that 3 or 4 days camping in the Andes is not their scene, for those who are concerned about exit strategies and injury protocols, or just if you waited too long and couldn't secure a permit, there are plenty of alternative hikes to the Inca Trail. 
A brief overview of some of our favorite options are below (you can read our complete guide to alternative routes to Machu Picchu here):
The Lares Trek is one of the most cultural hikes in Peru. If you choose the right company then you will explore the local villages and enjoy a little taste of local life on the way. The Lares Valley trek is a beautiful experience that shares with local culture and incredible mountain scenery. It's also possible to add on the KM104 trek into Machu Picchu. 
The Salkantay Trek is by far the most popular alternative trek to Machu Picchu. It is beautiful, and there are plenty of reasons to hike the Salkantay Trek– but bear in mind that it will be the busiest alternative (sometimes even busier than the Inca Trail itself, especially because the Inca Trail has a cap on permits that the Salkantay trek does not have). 
Not really a trek, more of a multi-sport to the citadel, the Inca Jungle Trek has mountain biking, climbing, rafting, and ziplining on a fun-filled adventure. 
Choquequirao to Machu Picchu 
If you are a lover of hiking, history, and culture, and you have a bit more time to spare, this could be the perfect choice for you. By far the most taxing of the options laid out here, the Choquequirao to Machu Picchu Trek is a 7 Day adventure that visits both Machu Picchu and Choquequirao, a bigger, better preserved, barely visited Incan Citadel deep in the mountains. 
To find out more about the Choquequirao Ruins, click here.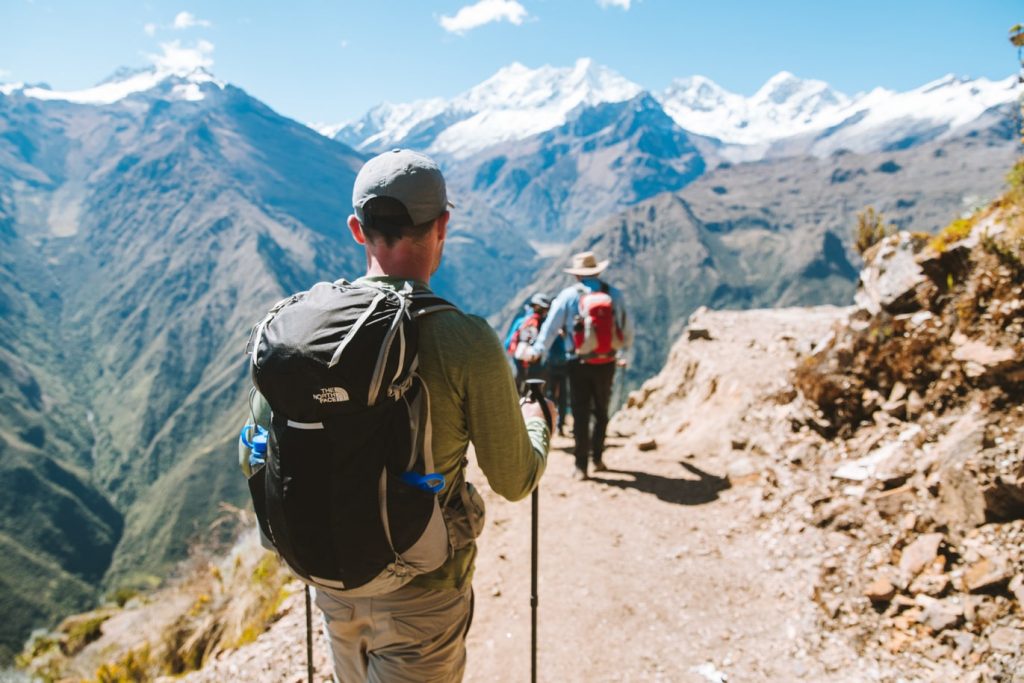 Alternative Inca Trail treks 
Okay, so you've settled on your trek to Machu Picchu- but perhaps it's not quite enough Inca Trail for you? As we mentioned earlier, the Inca Trail spanned from Argentina to Colombia, with (at its peak) a staggering 40,000 miles of road across the continent. 
Naturally, there are a few more Inca trail hikes that you can explore in Peru, with some of the best in Cusco. You can find a guide to our favorite Inca Trail alternatives here, or enjoy a brief synopsis below: 
Perched on the brink of the Apurimac Canyon, you'll be hard-pressed to find a more beautiful destination- and it's barely visited so you'll likely have the place to yourself. We strongly recommend spending two days here so you can enjoy the sunrise and really have time to explore and soak in your surroundings. 
Wind your way along ancient Inca Trails, through remote farming communities and heards of friendly llamas and alpacas to find your way to these remote ruins. Huchuy Qosqo is far, far away from the crowds, and a great opportunity to experience the Andes in private. The trek is possible to do in one or two days. 
Perhaps the most cultural and easiest option, this day hike explores the wool-making district of Chinchero (a good tour will include a guide on how to dye and make the wool), followed by a gentle downhill hike along Inca Trails to the village of Huayllabamba. 
Extra Tips for Hiking the Inca Trail 
Give yourself time to acclimatize in Cusco before starting the trek. 
Be prepared: As we mentioned before, the Inca Trail can be tough thanks to its high altitude and there are very few exit strategies. Be prepared and get fit before you go.
Bring Coca leaves for the altitude, a traditional remedy.
Bring your health and safety kit- BUG SPRAY, sunscreen, and blister patches.
Break in your shoes before trying the hike. Seriously, just do it.
Accept the conditions. There may not be showers available, and the toilet is a portable toilet carried by one of the porters. You're going to be roughing it a bit, it's part of the charm of the mountains.
Be prepared- bring external chargers for your electronics and don't get caught short at Machu Picchu.
 The porters carry all your heavy camping gear but this is inaccessible during the day so bring a small day-pack to carry your personal day gear in – i.e. water bottle, camera, sun-block, insect repellent, light fleece, and rain jacket.
 Due to Inca trail rules limiting the numbers of porters and the weight they carry, limit your heavy gear to 8kg per person – this is usually more than enough.
Any excess gear may be stored in Cusco at your hotel whilst on the Inca trail. 
 Since 2011 the Huayna Picchu peak entrance is no longer included in your Inca Trail permit. If you wish to climb this peak it requires an extra, limited-availability permit. The cost is approximately US$78 and you should let your tour company know at the time of booking. Alternatively, you can hike Machu Picchu Mountain. Discover the differences here.
 Inca trail regulations stipulate trekking poles are only allowed with rubber protecting tips. This is to prevent trail damage. 'Native' tree walking sticks are also banned on the trail, this is to prevent de-forestation.
 We recommend trekkers take around six hundred soles in local currency for any emergencies and expenses in Machu Picchu. 
  At every hotel check-in and at your trip briefing, you will be requested to provide your passport and Immigration card to be photocopied. This is required, by law, for tax purposes.
  Check that your company has a 'porter protection policy' that ensures all porters are well treated, paid, insured, fed, and looked after.
  Most good quality sporting equipment is unavailable in Peru so if you wish to donate any outdoor clothes, sleeping bags, etc they will be gratefully received by your porters and guides.
---
We hope you've enjoyed this complete guide to the Inca Trail. If you have any questions, leave them in the comments below and we will answer them for you. 
0