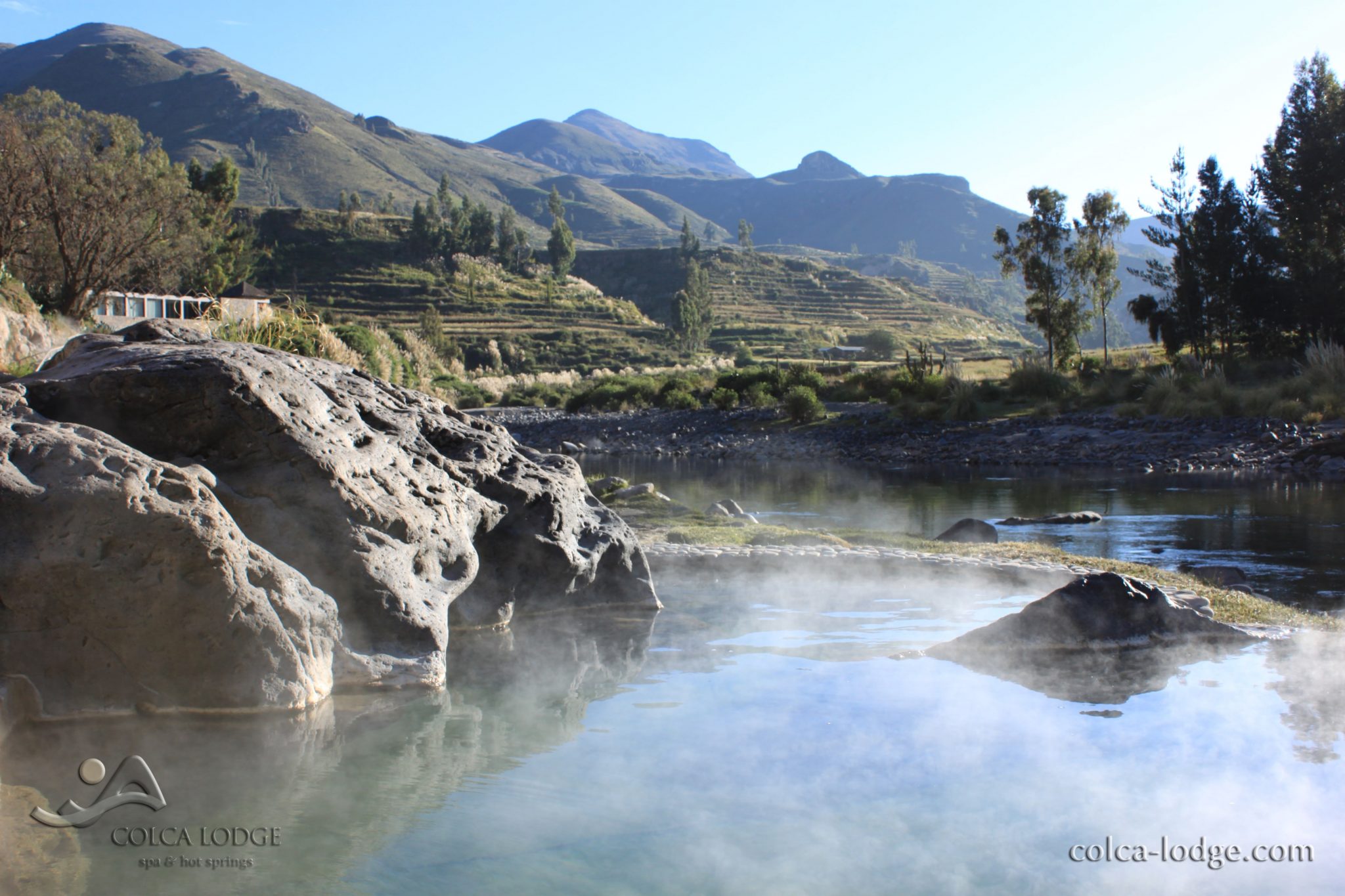 Natural hot springs in Peru are not found everywhere, but there are some truly exceptional ones if you know where to look. 
The vast majority of the hot springs we share with you have a very cheap entrance fee (around 5 soles per person), and those which are higher priced are noted. It's a running theme throughout this article, and important to remember, that some of these springs are perhaps less built-up than others- or than what you may expect. 
This article breaks down the best, the most popular, and the secret hot springs in Peru for you to visit on your trip. But first… 
What to Bring to Hot Springs in Peru 
A bathing suit. Many places require bathing suits to enter the hot springs in order to keep everyone covered and comfortable. 
A towel. Naturally, unless you like to drip dry or just throw your clothes on while still wet, you're going to want a towel.
A small lock. The vast majority of hot springs in Peru have free lockers available for patrons to use, but you will need your own lock to ensure your stuff remains safe.  
Sandals. Prevents you from slipping, and also just better for you than wandering around barefoot.
Soap. Many places will ask you to take a quick shower before getting in the pools in order to keep them clean, and soap is going to help with that.
Some money. As mentioned above, the majority of hot springs will charge a small entry fee, so don't get caught short changed.
An open mind. Many times this article will re-express how if you are searching for luxury standards of natural hot springs in Peru, there are slim pickings. They do exist, but they are few and far between.
Without further ado, here are the 11 best hot springs in Peru:
---
Check out: Our cultural day trips and get to know a different side of Peru- away from the hustle and bustle of the main sites, allowing you to connect with a more authentic, local side of Peru.
---
Colca Canyon – Arequipa 
The Colca Canyon has some of the most popular hot springs in Peru- namely, the hot springs in Chacapi. They are also a common stop-over for many back-packers as they finish up the Colca Canyon trek. The setting is beautiful, but they do have a pretty obvious flaw…
Unfortunately, they are extremely busy, and as a consequence, they often have very dirty water. This is aggravated by the fact that access to showers on the Colca Trek is minimal, and where there is access there are high costs and very rarely warm water. 
So, these popular springs are heavily frequented by travelers who have been hiking hard for two to three days, potentially without a shower for at least as long as the trek. If you're passing through then certainly, visit these springs. But don't seek them out unless you can visit early in the morning before the trekkers arrive. 
Many sources will tell you to wait until after they leave to get the pools to yourself (should be around 4:30 pm), but the water will still be mucky at this point. It's best to go early so the pools have had all night to settle and refresh.
---
Check out: Our cultural day trips and get to know a different side of Peru- away from the hustle and bustle of the main sites, allowing you to connect with a more authentic, local side of Peru.
---
However, there are much more rarely visited alternatives available within the Colca Canyon. It's not up for debate- the best hot springs in Peru are in the Colca Lodge. These hot springs are completely natural, as well as completely private for guests. This means that the water is clean, and the pools are regularly cleaned. 
The lodge has invested in the springs, meaning you can enjoy a natural jacuzzi in the privacy of your own suite (only available for the Panoramic Suite). There are also private hot springs in the spa, as well as natural underfloor heating (using the excess naturally hot water from the springs). 
Pair this hot spring with: A weekend to relax and unwind in nature, and some of the other activities that the Colca Lodge offers, such as horse riding, guided trekking, mountain biking, spa activities, and various museums about local wildlife. 
Lares Valley 
Not so far from Cusco, the Lares Hot Springs are a welcome respite for travelers taking on the Lares Hike. But, they are also accessible via a day trip (a long day, admittedly) from Cusco- or a shorter day trip from Calca in the Sacred Valley. 
The springs themselves may be a little jarring to look at as they do not share the crystal clear or gorgeous blue waters many dream of when it comes to natural hot springs, but the water is natural, clean, and warm, as well as full of natural minerals. 
No, the Lares hot springs are a somewhat unappetizing shade of yellow-brown, and the rustic nature of the surroundings probably do not encourage those who seek a little more luxury (if that's you, then just head right back up to the Colca Lodge section).
 It's also worth mentioning that the springs have a relatively high sulfur content- so great medicinal and healing qualities, but a wee bit eggy (only a wee bit). Now, as I have hashed out the warnings for the Lares Hot Springs, let me share some of the benefits of this (genuinely) beautiful and sacred spot: 
It's a super authentic look into Lares life.

The Lares hot springs are a place that locals love to visit and hang out in, so you will be one of the locals if you make the trip to these hot springs in Peru.

 

It's a beautiful location 

If you love a mountain scene, and love to relax, the Lares Hot springs are a no-brainer. Set high up in the mountain, these springs have a great view of the mountain and offer an amazing place to relax. 

Sulfur baby! 

One man's trash is another man's treasure. Or, one man's sulfur is another man's sulfur. While it does certainly have a 'distinctive' smell, it has more than its fair share of recognizable benefits. From promoting clear skin to helping to reduce signs of aging and soothing muscles, sulfur is going to make your skin feel amazing. 

A great pit-stop for trekkers 

After a couple of hard days trekking, aching and sore muscles are welcomed in these naturally warm pools, and they're certainly a welcome respite, setting you up to be refreshed and rejuvenated ready for the next day's trek. 

Off the beaten path

Unlike some hot springs in Peru, the Lares hot springs are off the beaten path, and while locals certainly do visit, there are not so many backpackers. This means more room, more privacy, and as point one mentions a more authentic experience. 
---
Check out: Our cultural day trips and get to know a different side of Peru- away from the hustle and bustle of the main sites, allowing you to connect with a more authentic, local side of Peru.
---
Pair this hot spring with: The Lares Valley Trek, a visit to Choqecancha, independent treks around the surrounding mountains.  
Upis – Ausangate
Upis is a tiny pueblito that is found at the very beginning of the Ausangate trek. It's one of the smaller spots on the list, and one of the least used. But you know what that means! Clean water! 
There are some incredible views to be appreciated from the town, as you might expect, with it being the starting point of one of the most beautiful (and challenging) treks in Peru. However, these hot springs are not particularly 'hot' on the upkeep, so just remember, when it comes to hot springs in Peru there are many different standards and this is the lower end. 
Still! Worth a visit and a quick relax before subjecting yourself to the Ausangate Trek, one of the most beautiful, fulfilling, and technically difficult challenges readily available in Peru. 
Pair this hot spring with: The Ausangate Trek! 
Pacchanta – Ausangate
This is another hot spring that is perhaps not the most ideal location for a day trip on its own, but doesn't that just add to the irresistible nature of it? 
Pacchanta is a tiny village found close to the Ausangate mountain (but a different location to Upis). It is the starting point for the (in my humble opinion) criminally underrated 7 lake trek. 
There are several pools of varying temperatures, sizes, and depths, but the water is fantastic, and the surroundings are equally fantastic- complete with your own herd of alpacas grazing within touching distance. 
Pair this hot spring with: The 7 Lake Trek. This is a day trek, but it is a longer one and so you may want to spend the night there in order to enjoy it to the fullest extent. 
Mud Pools – Zorritos 
---
Check out: Our cultural day trips and get to know a different side of Peru- away from the hustle and bustle of the main sites, allowing you to connect with a more authentic, local side of Peru.
---
Not exactly a hot spring, but these natural mud pools are close to the famous beach town of Mancora and a great place to spend an afternoon. The area is not particularly built up, and it is mostly frequented by locals (unusual for a place like Mancora, which is somewhat a tourist town). 
It doesn't cost anything (or it didn't, at the time of writing) to use the mud pools, and it's nice to soak up all of the minerals and antioxidants in the mud. However, if you want to wash the mud off you will need to pay a few soles for the pleasure. 
I struggle to imagine a situation where you/your taxi driver wouldn't want you to wash the mud off before returning to your hotel, so pack a few soles and a towel, as well as the usual sandals and bathing suits. The mud pools close at 6 pm, so remember to budget your time well.
If you're so inclined, you could even bring a jar to fill up with the mud as a souvenir. Bear in mind that it likely won't get through customs on your way home so use it up before you leave. 
Pair this hot spring with: Surfing lessons, relaxing along the beach, or enjoying a few drinks in Peru's resident party town. 
Baños del Inca – Cajamarca 
Right off the bat, Cajamarca is one of the most underrated and understated cities in all of Peru. It is incredibly historic, beautiful, and there are minimal (foreign) tourists. It also boasts the Baños del Inca, supposedly where the Inca royalty would bathe. 
If you want to get up close and personal with the history of Peru, natural beauty, and incredible cuisine, then Cajamarca is the spot to do it. The hot springs here continuously make the list of top 5 things to do in the town, so if you are on the hunt for more than just hot springs in Peru, then Cajamarca is your place. 
Pair this hot spring with: Visiting the rock forest, learning about (and sampling) Cajamarca cheeses and milks, the traditional dishes of the area, Incan history tours. 
Santa Teresa – Jungle near Cusco
A small slice of the Peruvian highland jungle, Santa Teresa is a short trip away from Cusco- around 4 hours by taxi. Stay in one of the small lodges up the mountain, soak up the serenity of the jungle, and of course, spend a little (a lot) of time in the hot springs of the valley. 
While the hot springs are not the only reason to visit Santa Teresa, they are the most popular, and arguably the best destination in the town. 
If you are looking for a budget jungle experience, and you really just want to experience jungle life as the locals do (as opposed to staying in a lodge and exploring jungle reserves) then Santa Teresa is a great place to do so. 
Pair this hot spring with: the two waterfall trek, ziplining, trekking
Aguas Calientes – Machu Picchu 
If you have budgeted yourself an extra day in your trip to Machu Picchu then this is the perfect place to waste away an afternoon. Equally, if you have just finished a grueling trek and want to loosen your muscles before the big day this is the spot to do it. 
Much like the Lares hot springs, the water has a hit of yellow- it's just the way that the water comes out. Also, like the Lares hot springs, there is a faint smell of egg (just a bit though!). The pools have varying temperatures, so you can make your own plunge pools, from cold to hot. Some like it cold, some like it hot. 
Note: These are some of the more expensive hot springs in Peru for tourists, thanks to the location next to Machu Picchu. Expect to pay around 20 soles per person.
Pair this hot spring with: Machu Picchu. Duh. 
Real Hotel Monterrey – Huaraz
As this article continues to chime on about, hot springs are the perfect respite from a hard day's hiking. And so, it's only right that we found a hot spring in the hiking capital of Peru, Huaraz. 
There are three options available for hot springs in Huaraz, but Real Hotel Monterrey is the largest, and the closest to the city center. It once again befalls the curse of the slightly yellow water, but as this is the majority of hot springs in Peru, perhaps it is time to stop discussing the color of the water. 
These hot springs are presented much like an open-air pool, with changing rooms and showers surrounding them, and plenty of locals frolicking in the depths. 
Pair this hot spring with: Any of the many hikes around Huaraz, from Laguna 69, to longer treks like the famously long and hard Huayhuash. 
Churín – Sierra de Lima
Not quite in Lima, but the Lima region (in fact around 4 hours from the city itself). The Churin hot springs are truly beautiful and thanks to their location they are criminally under-visited with most of the guests being older Peruvians. This is thanks to the natural properties of the water helping to ease bone pain and rheumatism. 
The good news is that if you are planning to make the trip, there are a plethora of natural hot springs for you to choose from, including those that have hot, natural waterfalls. 
The town is small so there is not so much to see in the actual town, but there are several attractions surrounding the area. 
---
Check out: Our cultural day trips and get to know a different side of Peru- away from the hustle and bustle of the main sites, allowing you to connect with a more authentic, local side of Peru.
---
Pair this hot spring with: Local food, archeological sites, adventure sports, relaxing in the mountains. 
Of all the hot springs in Peru, these are 11 of the very best, shared with our local expert insight. If you are ready to begin planning your tour of the local hot springs, or if you want some more information about Peru, then please don't hesitate to contact us.
0