For years now, there has been a move away from camping in Peru and other popular trekking destinations. A shift towards day treks that stay in hotels in the valley and of building permanent accommodation on trekking routes. Some think camping in Peru is a poor man's option but I disagree. I actually feel a night under canvas can enrich your Peru experience.
This blog will explore the best camping spots in Peru, and for those sitting on the fence, we will also discuss the pros and cons of camping in Peru vs getting a hotel.
Camping in Cusco, Peru
This selection of one-night camping trips in Peru was designed specially to give you a taste of just how special an experience it can be.
Not an easy trek, but a truly unique experience camping in Peru. Where else can you camp a few hundred meters from Inca ruins with practically no one else about?
Trek to the little-visited Inca site of Waqrapukara and spend a night camping beneath the stars. Suitable for families as long as you are acclimatized.
This is a full expedition in two days. Stunning roads, great rapids and riverside campfires. From 10 years upwards.
Two of the best days rafting you will ever have. Remote, wild, technical, with a memorable beach camp. Over 16 years only.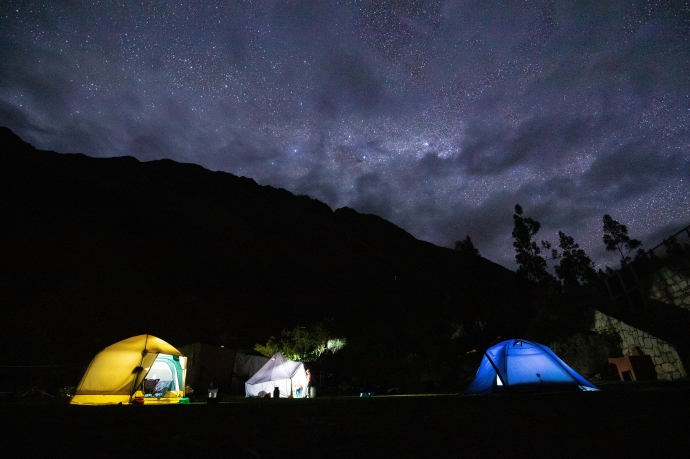 Camping in Peru, Lima
Lima isn't most people's favorite part of Peru, but it gets its fair share of visitors. There aren't any decent camping spots in the city itself, but if you care to venture further afield, there are some awesome places perfect for an overnight experience.
Rupac
Rupac is a set of ruins that are found above the clouds a few hours outside of Lima. If you go there in February then you may be lucky to see the 'colchon de nubes' (a blanket of clouds) where a layer of cloud covers the valley below and a beautiful sun is visible.
It's a full day there and back, with a few hours' drive to the start of the trek. To get there on public transport you must take a combi to Huaral, and then a taxi to the start of the trek. The taxis know where to go and they will wait for you on your return the next day.
Make sure that you pack things inside a waterproof casing, especially in the months of Jan-March. You will be walking up through a cloud.
Marcahuasi
Marcahuasi is an ancient site with ruins and a rock forest. It's famous for the spectacular scenery and is a fantastic camping spot, accessible by a 4-hour hike or a 20-minute drive from the closest town, San Pedro de Casta.
Camping in Tacna, Peru
Most camping in Tacna is offered through hotels with campsites attached. Since Tacna is not a very touristy destination, you may be able to wild camp or find some amazing off-the-beaten-path locations there regardless!
Camping in Huaraz, Peru
Huaraz is beautiful. Huaraz is also very cold. If you want to camp in Huaraz, it is advisable to do so with high-quality equipment. If you opt for a multi-day trek through the mountains then you will be camping and experiencing some of the best of Peruvian scenery.
Huayhuash Trek
The Huayhuash trek is a 10-day trek through the mountains of Huaraz, and each day gets more and more impressive. The only option is to camp, and while you won't be wild camping (there are campsites along the way and to choose wild camping means you open yourself to the possibility of running into an angry local… or worse.
Santa Cruz Trek
This is a famously beautiful trek that battles an aggressive uphill over 4 or 5 days through the mountain ranges of Huaraz. You can find a complete guide for the Santa Cruz Trek here.
Camping in Puno, Peru
Camping in Puno is not very popular, owing to the very high altitude and cold harsh weather. There are not many readily available campsites in the area, similar to Tacna, camping options are more or less restricted to camping on hotel grounds.
You can also find 'glamping' options, staying in domes on the shore of Lake Titicaca where you garner the middle ground between camping and hotels.
Camping in Chiclayo, Peru
Chiclayo is a little-visited city in the north of Peru with some incredible places to visit- often with few other tourists. There are campsites in the city and also closer to the coast.
Camping in Mancora, Peru
As a beach town famous for backpackers and the insatiable surf, camping in Mancora is never far from anyone's mind. There are plenty of options to camp, both campsites and hotel grounds for a little more comfort. You aren't allowed to camp on the beach itself, but there are many options a mere stone's throw away.
Pros and cons of permanent accommodation
They offer more comfort
There is something to be said for a good night's sleep, in a huge bed, with freshly laundered linen and chocolate on your pillow. There is something to be said for walking across a heated floor in the middle of the night to the bathroom. And many people just have bad memories of camping as a kid, especially if you grew up in the UK.
They isolate your from your environment and local people
Even though they are still more " in the mountains" than a valley hotel,  permanent accommodations on trekking routes still isolate you from the world outside and the people outside. Sipping cocktails in a hot tub does not bring you closer to the locals, it emphasizes the difference. Remember when you are camping in Peru, you are never far from local communities, it is a very different experience to camping in the US or UK.
If you choose the day trek with the valley hotel option,  you miss the best part of the day in the mountains. It is a bit like watching a great movie and leaving halfway through. The mountains and riverbanks do not suddenly stop when you go home. Life carries on without you and early and late is when some of nature's best moments occur.
They change the place for ever
Any permanent structure also changes that world, that often fragile environment forever.  If you have ever seen a ski resort in summer you will understand what I mean. A tent by contrast, if carefully placed, will leave no trace on the landscape. You could walk by an hour later and not know anyone was ever there.
---
Check out: Our Choquequirao to Machu Picchu Trek– a 9 day adventure through the Andes
---
If you don't believe me, please go and look at the disaster that has happened in Soraypamapa at the start of the Salkantay trek. Groups camped there for years with a minimal impact, enjoying the spectacular view to the glacier, yet now the place has become a hideous shantytown. Incidentally, that whole area is designated as a buffer zone for the Sanctuary of Machu Picchu, in order to protect the flora and fauna that live within the Sanctuary, such as bears, deer, and a number of endemic birds. So really, there should not have been any buildings built at all.
Pros and cons of camping in Peru?
It is not as comfortable
Certainly, camping in Peru is not as comfortable as a hotel but sometimes a little discomfort can be good for us. Discomfort challenges us, discomfort can open our eyes to new experiences.
It is too easy for life to become too comfortable and we start to take things for granted. Soon we are comparing the thread count of various hotels, the size of their bathtubs, or the pattern of their rainfall showerhead. Is that really so important?
Yes, camp nights can be cold, the campsites can be high. Our backs are not as young as they once were, and that full-length inflatable mattress is not as comfortable as a real bed. You have to duck to get in the door of your tent, there is no wardrobe to hang your clothes, and no telephone to call for room service. But it is a small price to pay. And besides anyone who has camped with us knows we offer a pretty comfortable style of camping.
Camping brings you closer to the locals
Camping takes you far away, immerses you in the landscape 24 hours a day, and also reduces the barriers between you and the local people that live there. They too huddle against the cold, they too feel that joy at the first rays of the sun, they too trod the same path to get here, felt the same stones beneath their feet, the same moisture on the grass, the same sway of the wooden bridge.
Camping  immerses you deeper into the country
Camping immerses you into the soundscape of a place. There is sound everywhere, the early cockerel, the tinny transistor as people head to the fields, the laughter of the kids walking to school, rain on the tin church roof, birds squabbling for territory, the sing-song chatter of Quechua speaking women wandering by. They are not even all pleasant sounds- but they are very much the sounds of Peru.
Camping brings you closer to your travel companions
Camping does not only bring you closer to the locals and the landscape, but it also brings you closer to the people you travel with. Many years ago I guided treks around Mont Blanc. We offered camping trips and hotel-based trips, both lasting two weeks. The bonds formed by the campers, always outshone those of the hotel groups. Barriers were broken down so much quicker.
Bonds form while you sit chatting by the light of headlamps. They form around camp dining tables or while you are outside your tent watching the stars. And in the morning, you share experiences. People stand around together as the sun rises with a cup of coffee in hand. You see each other without makeup, with your hair in a mess.  You see and take each other you for who you really were, not the clothes you wear, the wine you choose, or the job you do.
---
Check out: Our 5-day Inca Trail. The best way to avoid the crowds, with fixed departure reduced price available!
---
Imagine how powerful that opportunity to spend time with loved ones and friends can be, no distractions, no hotel door to close between you, no disguises to hide behind, just you and them.
Interested and want to find out more?
If you are ready to start planning your trip to Peru, contact us or check out our recommended adventures for ideas, adventures, and updates.
0