There are three main ways to visit the citadel of Machu Picchu: by train, bus, or hiking. Each method has its advantages, and which is right for you will depend on a variety of factors. From cost, time constraints, challenge level, and how comfortable you are with navigating foreign countries.
Can you drive to Machu Picchu?
No. But you can drive to Hidroelectirca and walk from there. Check the "Machu Picchu by Bus" section to find out more about this route. There is parking available in Hidroelectrica for a small charge.
Taking the Train to Machu Picchu
The train to Machu Picchu is one of the most spectacular journeys you will ever take. The trip takes you through some of Peru's most stunning landscapes, including lush rainforest and part of the towering Andes mountain range.
The trip begins in either Poroy or Ollantaytambo, depending on the season as the train in Poroy does not run through the rainy/low season (January through April). Combo tickets are available to and from Cusco which include a bus from the station in Cusco to either Poroy or Ollantaytambo. The train does not run from Cusco to Machu Picchu directly because of the steep hills surrounding the city.
Once you have arrived at your station, prepare to board the train for a three-hour journey (from Poroy) or 1 hour 40 minutes (from Ollantaytambo) to Aguas Calientes, a small town located at the base of Machu Picchu. The entire journey invites you through small Peruvian villages and across some of the most incredible landscapes- slowly changing from mountains to rainforest as you approach Aguas Calientes and Machu Picchu.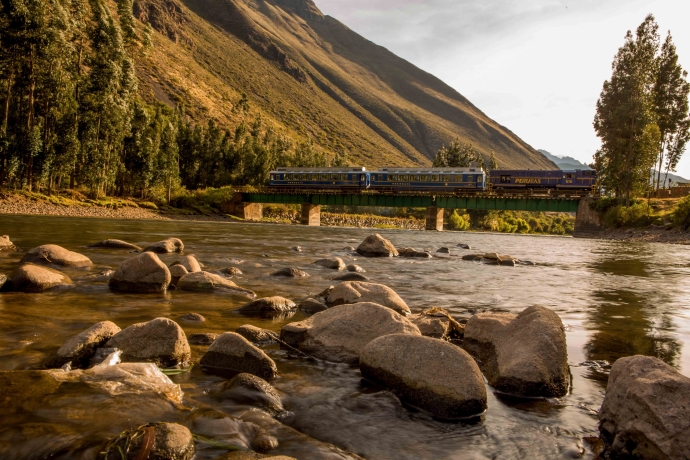 You will disembark from the train in Aguas Calientes, and from there you will need to decide whether you want to walk up to Machu Picchu (be aware of the many stairs and steep climb) or get the bus (not included in your train ticket) for $12 each way. This ticket needs to be bought in Aguas Calientes, and you will need to budget time to purchase it if you are organising your own trip.
Which Train Company Should We Take to Machu Picchu?
There are two different companies that operate train services to Machu Picchu- Inca Rail and Peru Rail. Both companies have similar standards across each class and take similar times to travel. Most of the time they also offer similar prices- although they may offer sales at different times so e sure to check both if you are looking for a bargain.
The main difference between Peru Rail and Inca Rail is their time of departure. If you are organising your own trip to the citadel then check both websites while planning your trip- and remember to consider there can be large queues in Aguas Calientes to buy the bus tickets and to board the bus.
Which class of train ticket should you buy?
Peru Rail and Inca Rail both offer three standards of service, starting at the:
Expedition & Voyager
The Expedition and the Voyager offer comfortable, assigned seating with windows in the ceiling to allow a better view of the surrounding mountains. You can also enjoy informative titbits throughout the journey as you pass landmarks and points of interest. Both trains have a snack cart available to purchase drinks and snacks.
These are both the most budget options available- prices vary depending on the season, the time of day, and how far in advance you book your tickets.
The Vistadome & The 360°
Both of these options have much larger windows than the Expedition and the Voyager, and offer free drinks and snacks for the journey. Inca Rail (the 360°) offers a separate viewing deck where you can stand and enjoy the view as it passes, and USB charging points at the seats.
The Vistadome (Peru Rail) offers traditional Andean dance demonstrations on the journey from Aguas Calientes back to Cusco as well as informative audios about passing landmarks.
The Vistadome Observatory & The Voyager Premium and Lounge
As with the previous class, both of these carriages offer large windows, and snacks provided. The main thing to set apart both classes is the lounge and open balcony at the back of the train, which both services offer. This is a comfortable area with armchairs and sofas, found at the back of the train- where you can also find an open balcony to enjoy fresh air without the windchill.
Inca Rail (The Voyager Premium) also offers a show which explains the story of how Ollantaytambo received its name. Peru Rail (The Vistadome) has a show that displays traditional dances and costumes of the region, as well as an opportunity to shop for authentic baby alpaca products.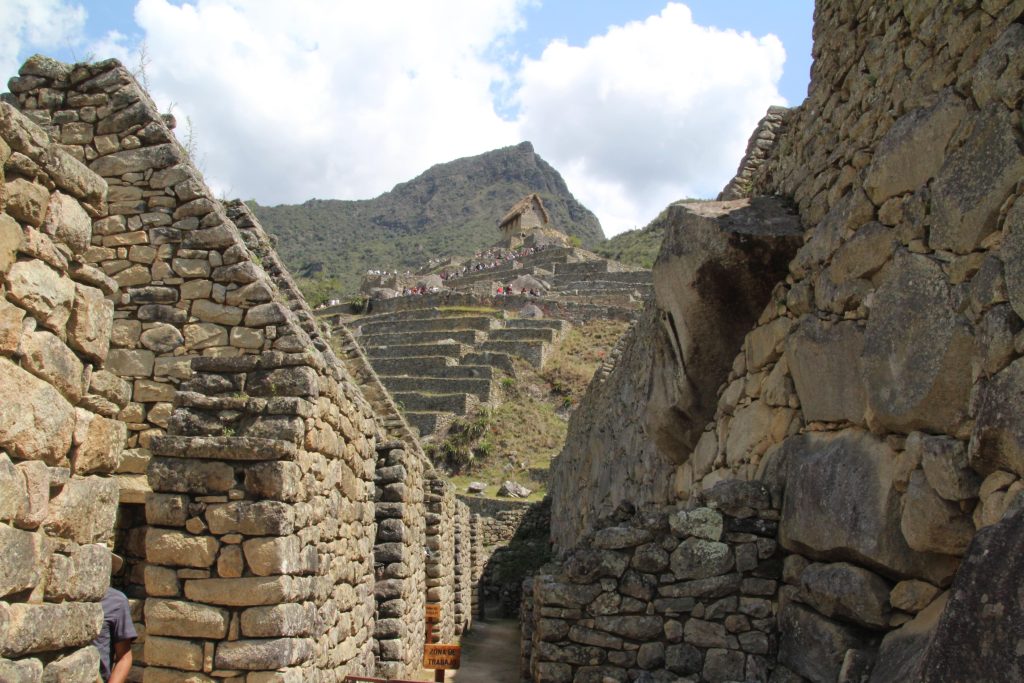 First Class Experience – Inca Rail
Run only by Inca Rail, and only by request, the first class lounge makes use of the comfort of the Voyager Premium, but with added luxuries such as a welcome cocktail, a gourmet meal prepared, and the bus directly to Machu Picchu being included in the price.
The Belmond Hiram Bingham – Peru Rail
Peru Rail's answer to Inca Rail's first class train is an entirely separate train named after the first white man to discover Machu Picchu- Hiram Bingham. This train is modelled after a classic 1920's pullman car, offering a thoroughly personalized service to each guest. The train is made up of a bar cart, an observatory deck, and the dining car.
Guests are offered a welcome drink and a gourmet meal is included in each direction- along with live music. A bus ticket to and from the citadel, entry to Machu Picchu, and a tour guide for up to 14 guests is also included in the price of your ticket. You can also enjoy an afternoon tea at the Belmond Sanctuary Lodge, located right outside the citadel.
The Private Experience – Inca Rail
If you feel as though your needs have not quite been met yet, Inca Rail's private experience offers guests an entirely private train carriage, with live music, a gourmet three course meal, premium drinks (including local cocktails), a private balcony, live music and a private bus up to the Machu Picchu citadel.
As this is a private trip, it needs to be booked in advance and can be personalised to your requirements and wishes.
Getting the Train to Machu Picchu From Lima
Unfortunately, it is not possible to get the train to Machu Picchu from Lima. Peru as a country relies much more heavily on bus and air travel than it does on rail travel.
The closest you can come to getting the train to Machu Picchu from Lima is traveling to Arequipa in Southern Peru. From there you can take the luxury two day two night PeruRail "Andean Explorer" train to Cusco, and then one of the above tickets from Cusco to Machu Picchu.
While this is almost guaranteed to be the highlight of your trip to Peru, it is also expensive and not the most practical use of your time.
How to Get to Machu Picchu from Lima
If you are looking for a more direct way to get to Machu Picchu from Lima, there are two major ways: the fast way and the budget way.
The Fast Way- Fly from Lima to Cusco, and then get the train directly to Machu Picchu. If you plan this out well (tightly) you should be able to get to Machu Picchu from Lima within 6 hours- although I would recommend a bit of extra breathing room just to be sure.
The Budget Way- Take the bus from Lima to Cusco (around 24hrs), and from there take the bus to Hidroelectrica where you can hike into Machu Picchu (see the bus section below for more information).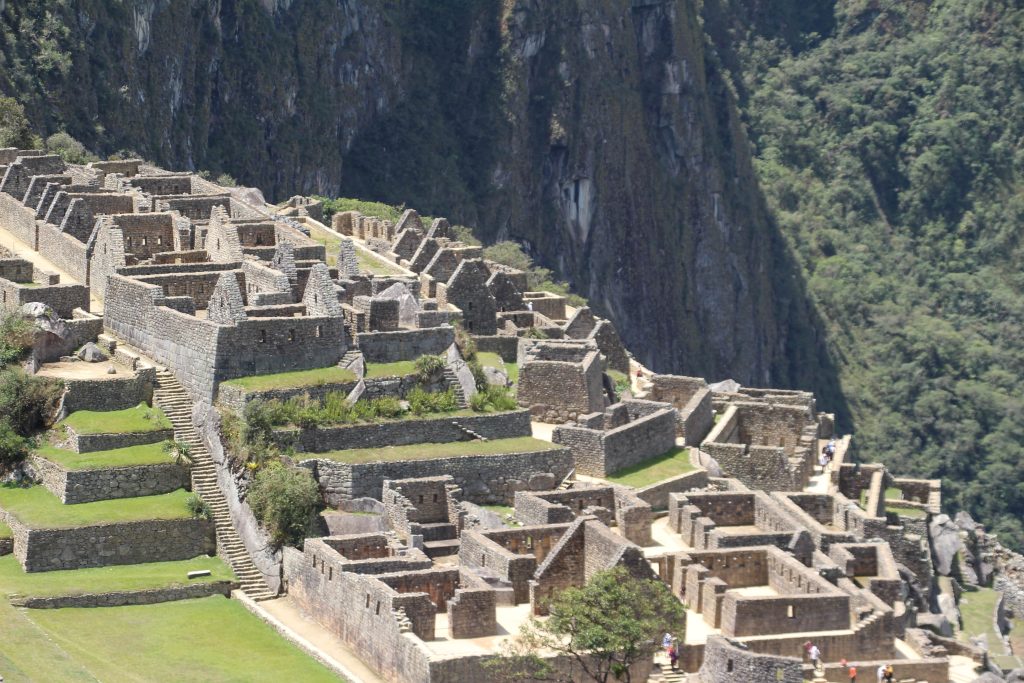 Of course, you can mix up the way you travel from Lima to Machu Picchu. Perhaps splashing out to take an hour flight beats taking a 24hr bus, but the bus and hike to Machu Picchu doesn't phase you, or maybe the bus to Cusco is something you'd like to experience but you'd rather play it safe and take the train. However you choose to travel from Lima to Machu Picchu is up to you.
---
Regardless of your budget or travel preference, the train to Machu Picchu provides an unforgettable experience that will stay with you forever. The stunning scenery and unique culture make it a truly special journey that every traveler should experience at least once in their life.
Taking the Bus to Machu Picchu
The bus ride to Machu Picchu from Cusco is the cheapest way of traveling- but there are two options. You can choose from using a tour company, which generally means a more direct route and more comfortable buses.
The only "direct" buses from Cusco to Machu Picchu are run by tour companies. A tour company over doing it yourself will mean you have a guide present, a lunch stop and bathroom breaks, and won't have to make any guesses about your route. You can find bus tickets to Machu Picchu online or from most budget travel agencies in Cusco city.
Alternatively, you can do it yourself, taking a combi or bus to Santa Teresa, and then a combi (a shared taxi) to Hydroelectrica. If you have plenty of time, take a day in Santa Teresa to experience the hot springs there. Not only are they gorgeous to look at, they're a beautiful way to relax in nature. This is without a doubt the cheapest way to get to Machu Picchu.
All driving routes to Machu Picchu finish at Hydroelectrica. This is the last stretch of road before Machu Picchu- it is not possible to take a bus all the way to Aguas Calientes or Machu Picchu.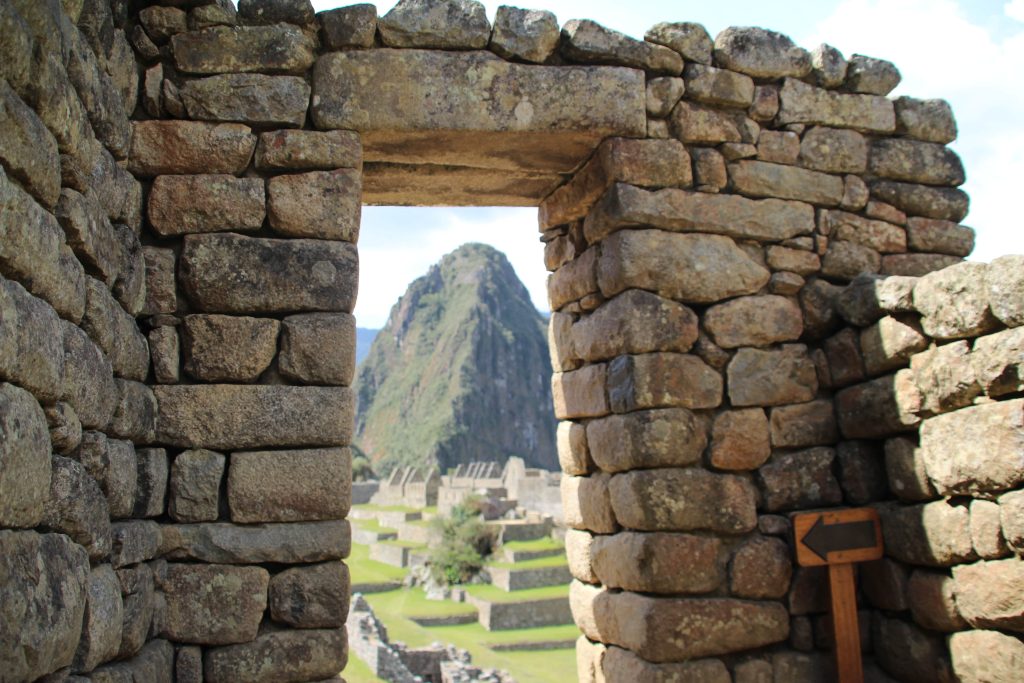 The walk from Hydroelectric to Aguas Calientes (the town below Machu Picchu) is about 10 km, and takes between two and three hours depending on hikers' fitness levels. The route is flat and pleasant enough as it follows along the train tracks. Be aware that it is a jungle climate, so expect hot and sticky weather. Be sure to pack insect repellent as well.
It is extremely important to note, that the reason getting the bus to Machu Picchu is the cheapest way to do it is because it is also the most dangerous. The roads are thin and not as well maintained as they should be. Accidents do happen on this route- especially during the rainy season- when landslides are common.
Saving money is great, but use your discretion while choosing the best way to travel to Machu Picchu.
Hike to Machu Picchu
Hiking to Machu Picchu is a challenging but rewarding experience, and it requires a considerable amount of physical exertion and mental fortitude. That being said, there are plenty of different hikes available- and theoretically, there is a hike to Machu Picchu for everyone of a normal level of fitness.
Below we will go through some of the most popular hikes and treks to Machu Picchu, allowing you to decide which fits your needs best. How long it takes to hike to Machu Picchu will depend on which trek you choose, but the "standard" hike to Machu Picchu tours take 4 days, including 1 day visiting the citadel.
Likewise, the difficulty of the hike to Machu Picchu will depend heavily on which hike you choose, your fitness level, and how long you have given yourself to acclimate. Do not underestimate the importance of acclimatizing while planning your trip to Peru.
The Inca Trail
The most popular route for hiking to Machu Picchu is the Inca Trail, which starts in Ollantaytambo and takes approximately four days to complete, including your visit to Machu Picchu.
One of the major downsides of the Inca Trail is how busy it is- so if you have an extra day to spare then consider doing a 5-day Inca Trail trek instead (you can read about the merits of both here) to enjoy the same route at a different pace to the rest of the crowds.
Difficulty: Hard- there are many stone steps and ups and downs on the trail.
Inca Trail Map
The Inca Trail is a legendary and awe-inspiring trek that takes you through the Andes Mountains in Peru. Known as one of the world's great treks, the Inca Trail winds its way through lush cloud forests, alpine tundra and an array of archaeological sites that offer insight into Peru's fascinating ancient cultures.
If you are interested in history and having a historical experience and challenging yourself, the Inca Trail could be a good option for you. It is not possible to do the Inca Trail on your own so you will have to do a guided hike.
Salkantay Trek
The Salkantay Trek to Machu Picchu is one of the most popular and well-known treks in Peru. It is a five-day trek that follows an ancient Inca Trail, leading to the UNESCO World Heritage Site of Machu Picchu. The trek takes hikers through stunning Andean mountain ranges, lush cloud forests, and picturesque valleys.
If you are only looking for mountain views, this could be the trek for you.
Difficulty: Medium to hard, with the option of taking a horse for the most difficult section.
The Salkantay Trek starts with a hike to Laguna Humantay, a beautiful glacial lake and one of the most popular and well visited sites in all of Peru. The following day will see a steep ascent up to Salkantay Pass (4,600m), which a tough slog up it really pays to be properly acclimatized here.
Days three and four see a descent into the jungle, exploring two of the different types of landscape Peru has to offer. Day five is the visit to Machu Picchu itself before returning to Cusco via train in the evening.
This Trek to Machu Picchu offers a unique experience which combines stunning mountain views with diverse ecosystems and unforgettable cultural experiences. It is undoubtedly one of Peru's most rewarding hiking trails!
The Salkantay trek is possible to do alone, but it can become quite costly as things add up. You will be paying for accommodation and/or tent pitches as you travel, but the main cost is transport to and from the hike start points.
It's also worth noting that many tour groups do not walk in one straight line, but instead pick up transportation to the next walking point on days three and four.
The Lares Trek to Machu Picchu
Of all the treks into Machu Picchu, the Lares dives most deeply into the culture of Peru and the way that a huge percentage of Peruvians live- in small villages in the mountains.
The Lares Valley trek traverses through beautiful mountainscapes and visits some of these villages along the way to Machu Picchu. If you choose the company that you travel with well, they will have built up a rapport with said villages and you will have an honest look into the lives of local Peruvians.
The Lares Valley Trek does not have a specific route: each company chooses its own path. This means that you are much less likely to run into other travelers on this hike. It also means that you should again be aware of which company you intend to book with.
Difficulty: Depends on the route taken, the Lares Valley Trek can range from easy to hard. If you travel privately with a more experienced company then they can even adjust the trek difficulty as you hike to fit with your fitness level.
What is the Shortest Trek to Machu Picchu?
The shortest official trek to Machu Picchu is KM104, the one day Inca Trail that leads past the sun gate and directly into the citadel. This route is around 12 km and requires a permit to enter.
KM104 can get a little expensive as travelers need to take the train to the starting point, they need an official Inca Trail guide, and often this route is stretched into two days, with the first day enjoying time along the route and the second really exploring the citadel.
However, if you are looking for a more budget short hike, you can either walk from Hidroelectrica (see the bus section), or alternatively, you could hike the stairs from Aguas Calientes to Machu Picchu. Definitely not for the faint of heart, check out our side by side comparison of KM104 and the stairs into Machu Picchu.
Taking the bus from Aguas Calientes to Machu Picchu
Getting your bus ticket to Machu Picchu is not difficult, but you will need to consider your timing a little as sometimes queues can be long. If you are taking a guided tour to Machu Picchu, check to see if your bus tickets are included- if they are then no need to worry. If they aren't then your guide may be able to help you.
However, if you're not doing a guided tour to Machu Picchu, you will need to buy your own bus tickets. This must be done in person with a photo ID. You can find the bus ticket office at the first left as you are walking away from the buses, in parallel with the queue.
Tickets are $12 each way, and can be purchased outside the Machu Picchu citadel as well, in case you aren't sure if you want to get the bus down at the end of your tour.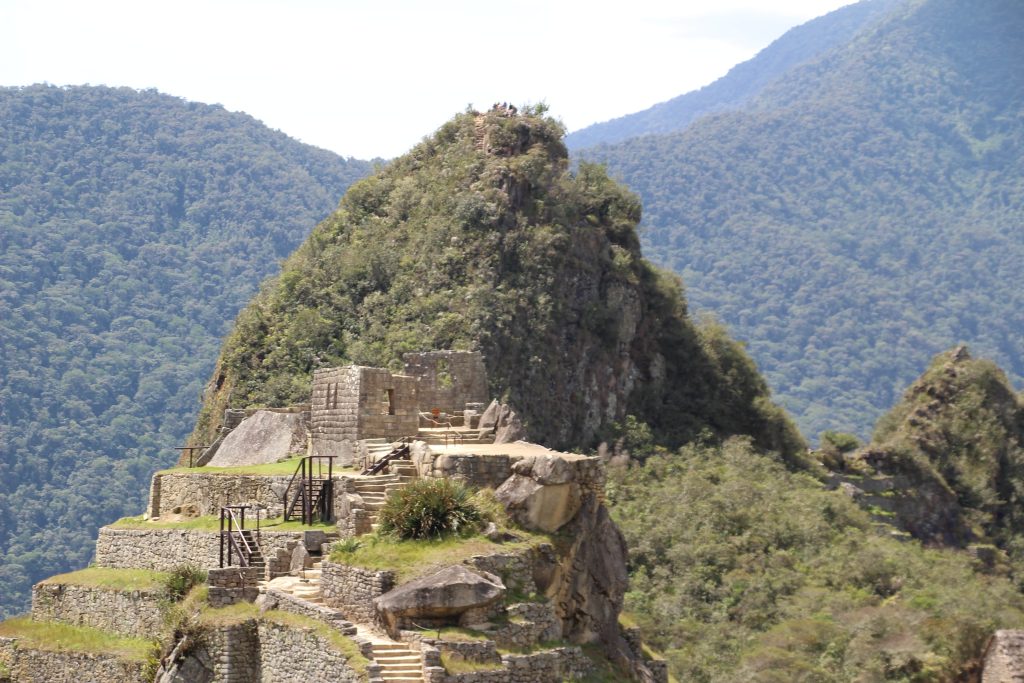 So, What is the best way to travel to Machu Picchu?
For many, the best way to travel to Machu Picchu is by train. Taking the train offers a comfortable and scenic ride, and you can also take advantage of the many stops along the way to explore different parts of Peru.
However, trekking is also a great option for those who want to experience the outdoors and appreciate the beautiful Peruvian landscape. They also offer a more complete and longitudinal experience for those who are up for the challenge.
Buses are an economical option, but they are often more crowded and uncomfortable than trains or trekking. Which route is "the best" depends entirely on what you personally wish to get out of your trip to Peru. Contact us today to discuss your options in getting to Machu Picchu.
0