The Salkantay Trek and the Inca Trail are undoubtedly the two most famous treks in Peru, and arguably South America. Both treks go to the mystical Machu Picchu, and both treks are tough multi-day hikes. But which is the harder trek? And which suits you best? Let's start with the basics:
Hike vs Trek
The difference between a hike and a trek comes down to two things: a hike is typically a one-day or overnight experience, along a hiking trail or footpaths out in nature. A trek, however, is a much longer expedition, typically in a more wild environment (although hiking trails are still acceptable) across multiple days.
Both the Salkantay and the Inca Trail are treks, as they last multiple days. However, due to the popular nature of both trails, you can expect well-beaten paths and no "offroading". If you are more interested in a hike than a trek to Machu Picchu then the 1-Day Inca Trail to Machu Picchu will suit you perfectly.
Alternatively, you can check out our 1-2 Day Inca Trail hikes, or our day hikes in Cusco if it's not important for you to end up at Machu Picchu.
Salkantay Trek(s)
You can find the Salkantay Trek advertised as a three-day trek, four-day trek, and a five-day trek- each of these including a day in Machu Picchu to conclude. If you are extremely short on time then you may be tempted to try a three or four-day trek- but we would advise against it.


The itinerary for the classic 5-Day Salkantay Trek is around 75km, reaching highs of 4600m above sea level at the Salkantay Pass and lows of 1000m above sea level at Hidroelectrica. The day-to-day itinerary is as follows:
Day One-Elevation Changes: 3400m to 4000m above sea level.

Distance: 13km or 8 miles.

Travel Mollepata, and hike to Soraypampa where the famous Laguna Humantay Trek is based. Day one is spent visiting the famous lagoon before camping in Soraypampa. This can vary according to your tour company, as many have different setting-off points, and may camp in slightly different locations. This day is missed on the three-day hike.

Day Two-Elevation Changes: 4000m to 4600m, down to 2800m.

Distance: 22km or 13.5 miles.

This is the hardest of days across the board, as today is the day that travelers take on the Salkantay Pass, a huge glacial pass that offers exceptional views of the Salkantay Glacier. After the warm-up hike to Humantay yesterday, 4 and 5-day trekkers should find this slightly easier than the three-day trekkers.

It's a steep hike, and the altitude is somewhat unforgiving for those who are not well acclimatized- so do yourself a favor and take a few days (at least) in Cusco before you try to take on the trek.

Day Three-Elevation Changes: 2800m to 2200m.

Distance: 16km or 10 miles.

The 5-day Salkantay Trek spends day three meandering through the tropical jungles of Peru- a very far cry from the cold and mountainous terrain of days 1 & 2. Day three is a short walking day with an afternoon learning about the coffee farms of Peru, including how to farm and prepare the beans.

The day finishes with a transfer to Santa Teresa, where you can relax in beautiful natural hot springs.

Day Four-Elevation Changes: 2200m to 2700m to 1000m, to 2000m.

Distance: 19km or 12 miles.

Today begins with a hike to Llactapata, ancient Inca Ruins with a uniquely beautiful view of Machu Picchu. After this hike, you will be transferred to Hidroelectrica, and begin the walk along the train tracks to Aguas Calientes, or Machu Picchu town.

What is day three and four on the 5-Day trek is squashed into one day on both of the shorter treks. Both the three and four-day treks transfer you directly from your day three-morning hike to Hidroelectrica, where you will walk to Aguas Calientes.

Day Five-Elevation Changes: n/a

Today is the day of Machu Picchu. There's no time to rest for Salkantay travelers, as you head into the ancient citadel to make the most of your time in Peru. This is what you've been waiting for!

After you have enjoyed your time in the citadel, you can expect a transfer back to Cusco the same evening.
Does Salkantay Trek work for Me?
It's clear that the best option is the 5-Day trek. The 3 and 4-day options require a much higher fitness threshold, and push hikers past the point of enjoyment, into exhaustion. Take it from me, you want to enjoy the trek leading up to Machu Picchu because if you arrive at the citadel exhausted then you simply won't enjoy it as much as it deserves to be enjoyed.
The Inca Trail Trek
The Inca Trail is a much more structured trek than the Salkantay. The Salkantay has different options for transfers, different coffee farms to visit, different accommodation options (camping, sky domes, and luxury lodges), and horse support throughout the trek. The Inca Trail does not.
In fact, if you are looking for a trek to help you connect with nature and forget about the outside world then this could be your ticket. There are two options for the classic Inca Trail, the 4-Day, which sees three days of hiking and one day in Machu Picchu, or the 5-Day.
The five-day is significantly less popular, so despite the fact it heads the same route as the four-day, trekkers are much more likely to be able to enjoy the trail without being surrounded by other hikers. There are 500 Inca Trail permits per day and it always sells out, so be aware of the people traffic you are setting yourself up for with a 4-Day trail.

Inca Trail 4 Day Stats
Day One:Distance- 13km

Elevation Change- 200m descent, 700m ascent

Starting Point- Piscacucho, KM82 (Ollantaytambo)

Finishing Point- Huayllabamba

Sites Visited- Llactapata

Day Two:Distance- 11km

Elevation Change- 1150m ascent, 850m descent

Starting Point- Huayllabamba

Finishing Point- Pacaymayo

Sites Visited- Warmiwañuska

Day Three:Distance- 16km

Elevation Change- 675m ascent, 1475m descent

Starting Point- Pacaymayo

Finishing Point- Wiñaywayna

Sites Visited- Sayaqmarca

Day Four:Distance- 3km

Elevation Change- 150m ascent, 300m descent

Starting Point- Wiñaywayna

Finishing Point- Machu Picchu

Sites Visited- Phuyupatamarka, Wiñaywayna, Intipunku (Sungate), Machu Picchu

The five-day trek splits the first two days across three days, which allows for more acclimatization and exploring various ruins all before crossing the dead woman's pass- the highest point on the trail at 4,215m. While this is high up, it is dwarfed by the heights experienced for the Salkantay Trek.
Hike to Machu Picchu difficulty
Neither hike is an easy feat, but the altitude of the Salkantay Trek makes it just that bit harder than the Inca Trail. However, there are several allowances that can be made for the Salkantay that can't be made for the Inca Trail.
For example, if you hurt yourself on the Salkantay Trek then you can exit the trek fairly easily using horses and car support. On the Inca Trail, this is not possible because horses are not allowed on the trail, and there are no options for exiting the trail. If you hurt yourself then a porter will be forced to carry you either back to the start or to the end of the trek.
Equally, the Inca Trail has more restricted options for things such as accommodation- if you think you can handle the distances but know that camping will be your downfall then perhaps the Salkantay Trek is a better option for you.
The highest point on Inca Trail and Salkantay
The highest point on the Inca Trail is 4,215m above sea level at dead woman's pass. The highest point on the Salkantay Trek is 4,600m above sea level at the Salkantay Glacial Pass.
Inca Trail Trek Difficulty
The difficulty of the trek depends heavily on how well acclimated you are before you begin (Check out this guide to Altitude in Peru). If you are fully acclimatized and accustomed to hiking on wild trails then the Inca Trail is a moderate trek.
If you have never attempted a multi-day hike before then it could be advised that you opt for a trek such as the Lares, which is easier than both the Inca Trail and the Salkantay Trek, as well as has much more developed evacuation routes. You can check out our full guide to the Inca Trail here for more information about the famous trek.
Salkantay Trek Difficulty
Much like the Inca Trail trek, the difficulty of the Salkantay depends heavily on how well acclimated you are before beginning. It is widely considered to be more difficult than the Inca Trail, but as mentioned, it has more comprehensive contingency plans if something goes wrong.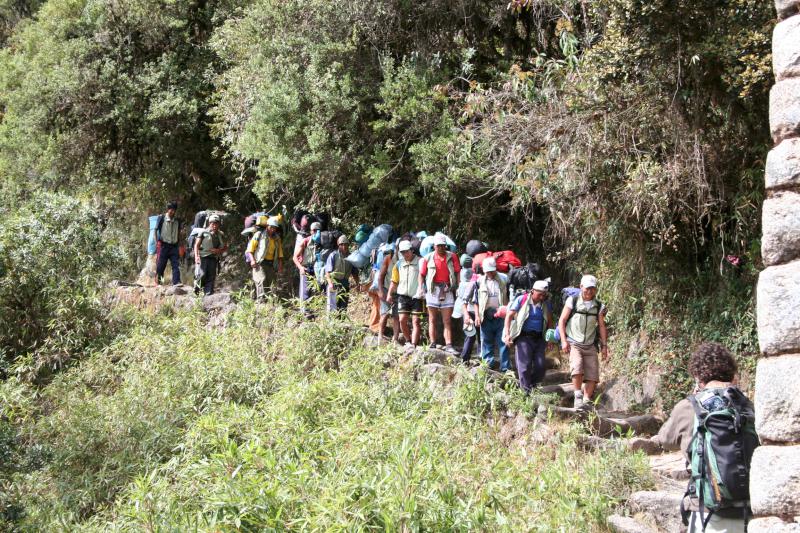 The hike also sees a certain amount of getting in the car and driving to the next destination, which may be comforting to some but could shatter the illusion for others.
Inca trek Peru
There are many different Inca Trails around Cusco, but only one leads you down the road into Machu Picchu.
It is the dream of many to challenge themselves to an authentic Inca Trail while visiting Peru, but if the length of time is too long, if the remoteness worries you, or you're just short on time, there are several other options for travelers that are much shorter. Check our 1-2 day Inca Trails to find another trip at your speed.
Likewise, the Salkantay is a daunting adventure that can catch many off guards and make them simply too tired to enjoy their visit to Machu Picchu. This is obviously not ideal for a once-in-a-lifetime trip, so think carefully before you make your decision. There are other options for beautiful mountainous treks in Cusco that you can take instead.
However, if you feel that neither of these options is challenging enough, then you can check out our ultimate versions of the same names- the ultimate Inca trail trek, and the ultimate Salkantay trek. Or, if you're really up for something wild, our Choquequirao to Machu Picchu trek takes you on an adventure through the wilderness to the little-known Choquequirao and on through the Andes. Find out everything you need to know about Choquequirao here.
0