If you've ever been trekking in Peru or even seen pictures of where you could go, then you know that it is a one-of-a-kind destination. With hauntingly big mountains, lagoons so blue you wouldn't believe, and a chronicled history so interesting you could lose yourself in it for months and still thirst for more.
However, we've all been in the position where you book a tour- then on that tour, you shuffle into a bus, staring out the window for a few hours (if you're lucky enough to land a window seat), get out of the bus a few times to stand and stare at a waterfall or a lagoon, then shuffle back into the bus for a few hours to home. Put simply, in Peru, sightseeing is not enough, especially in the post-covid world of tourism. Many people agree, an average day of trekking will easily beat a driveby tour.
In fact, in the post-covid world where regenerative travel has become so important, commonly trod trails such as the 4-day Inca Trail and even Rainbow Mountain should be avoided.
---
Check out: Our Treks into Machu Picchu! The best way to avoid the crowds, with fixed departure reduced price available!
---
The Inca Trail is probably one of the most famous hikes in the world- certainly in Peru. There's a lot to know about the Inca Trail and a lot to be said about it.
Everything you need to know about the Inca Trail While Trekking Peru
The most famous section of the Inca trail leads you to Machu Picchu, but that is by no means the only surviving part of the Inca trail. The Incas had an incredibly complex system of roads that lead all the way from the top of Argentina to Colombia. There are many many many surviving sections of the Inca Trail, including some great off-the-beaten-track Inca trail hikes.
But to focus on the most famous section of the Inca Trail, there are many things that must be considered. You must have a permit to hike on the Inca trail, and these Inca Trail permits often sell out up to six months in advance.
As you can imagine, this part of trekking in Peru is extremely busy which can spoil the effect for some people. However, there are ways to improve your Inca Trail experience, and what we recommend at Amazonas Explorer is for you to take on the 5-day Inca Trail instead of the 4-day Inca Trail, as this will free you from the crowds and allow you to enjoy the walk at your own pace. After all, the whole point of trekking in Peru is to lose yourself in the mountains, right?
When trekking the Inca trail, you will be camping. You will also need to carry some of your own equipment as the porters have a maximum load that they are allowed to carry- which is enforced across various weigh points throughout the trek. One of the dangers of the Inca Trail is if you pack too much and then struggle to carry it, especially with the changes to the regulations brought in in 2021.
Of course, the Inca Trail isn't the only way for you to get to the citadel of Machu Picchu. There are plenty of other treks in Peru that will lead you to Machu Picchu if you cant get a permit for the trail.
Salkantay Trek in Peru
The Salkantay Trek is the second most popular trek to Machu Picchu after the Inca Trail (wondering which is better? Click here). It gets extremely busy, pretty much all the time, except for the month of February, when it is closed due to heavy rains. There is an ongoing debate about whether to close the route in January as well after a Mudslide in 2020.
There are many reasons to hike the Salkantay Trek, and you do experience some beautiful scenery as you trek, but it's overrun and can be quite expensive. In our opinion, there are certainly better treks in Peru, especially on the way to Machu Picchu.
Choquequirao Trek to Machu Picchu
The Choquequirao Trek is a little-known adventure to seldom-visited ruins. These ruins are more extensive and better preserved than Machu Picchu, but significantly harder to get to- which means fewer people know about it, and fewer people visit. So what does this mean?
If you're an avid trekker in Peru, this is your dream location. It's almost guaranteed that you will have the ruins completely to yourself- and we make the trip even better by continuing the journey afterward to Machu Picchu. This is a unique trek, and it is a completely revolutionary way to get to Machu Picchu.
Lares Trek
The Lares Trek is a great alternative to the Inca Trail. If you want a trek where you are almost alone but you're not sure that you have the physical fitness for the Choquequirao Trek. Or if you're traveling with kids and know there's a strong possibility that they might decide that actually, today they don't want to walk (or even a trekking companion or yourself), Lares is the perfect option for you- especially if you still want to combine the Lares Trek with the final day of Inca Trail to Machu Picchu.
Machu Picchu
So, you've chosen your trek, your laces are tied and your rucksack is packed. But what about Machu Picchu? Of course, you want to get there to watch the sunrise peep over the top of the mountains in total bliss. A Machu Picchu sunrise is surely set to be the cherry on top of your incredible trek through Peru. Sadly, this isn't the case.
Not only does the sunrise before the gates open (and 600 tourists come flooding in alongside you desperate for exactly the photo, but the citadel is almost always covered in cloud in the early morning- owing to its location in a cloud forest on top of a mountain.
It's not all bad, however, as you still have the option to climb up one of the peaks that surround the citadel- Huayna Picchu and Machu Picchu Mountain– all that's left is for you to decide which one you prefer.
---
Check out: Our Treks into Machu Picchu! The best way to avoid the crowds, with fixed departure reduced price available!
---
There is no doubt that you will enjoy your day at Machu Picchu- after all, it is one of the 7 wonders of the world for a reason. But you only need one day there. And beyond Machu Picchu, Peru has so much more adventure to offer.
Choosing a Company to Travel Peru With
Whether you just want to trek Peru or whether you want to explore its rivers on a kayaking tour or a once-in-a-lifetime family adventure, it's important that you opt for a travel company that safe.
Unfortunately in Peru, there are many companies that don't do things by the book, so they can't guarantee your safety or even the safety of the equipment. In order to choose a safe Peruvian adventure, you have to ask questions about their licensing and about their equipment too.
---
Check out: Our Treks into Machu Picchu! The best way to avoid the crowds, with fixed departure reduced price available!
---
The same goes for choosing a guide- it doesn't matter how good they are on paper, they need to be right for you as well. Getting a great guide can be harder than it seems, but as long as you approach the right company, they should help match you up with your perfect match.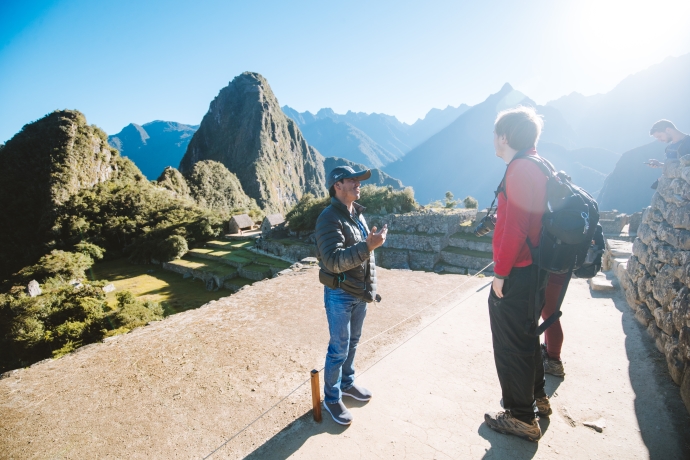 Off the beaten track Peru treks
Despite the usual hikes that can be ticked off everyone's Peru trek list, there are a couple of off-the-beaten-track treks that will take you places that tourists (and locals) rarely go to. Instead of the usual Sacred Valley Tour, why not swap it out for the seldom-done Cusco South Valley Day Tour. If you are looking for an exceptional adventure, then why not try the Huchuy Qosqo Trek?
Even if camping isn't really your thing, camping in Peru is an experience worth going home with.
Sustainability While Trekking Peru
While trekking in Peru is certainly one of the more sustainable activities you can do, there is still a lot to consider, especially when choosing the company that you will be traveling with. You can read all about Amazonas Explorer's commitments to sustainability and the ethics that we abide by before making your decision.
When you have made the choice to go trekking in Peru, there are many things to consider- where you will go, who you will go with, and if you will only be trekking or if you want something a little more out of your trip. There's plenty to consider- but a great time to be had by all.
If you're ready to start planning your trip, don't hesitate to contact us, and find out all about our new adventures.
ausangate
,
camping
,
choquequirao
,
cusco
,
cusco hikes
,
hike
,
hiking
,
inca trail
,
Lares Trek
,
larestrek
,
Machu Picchu hikes
,
peru hidden treks
,
peru hikes
,
salkantay
,
trek
,
trekking
0